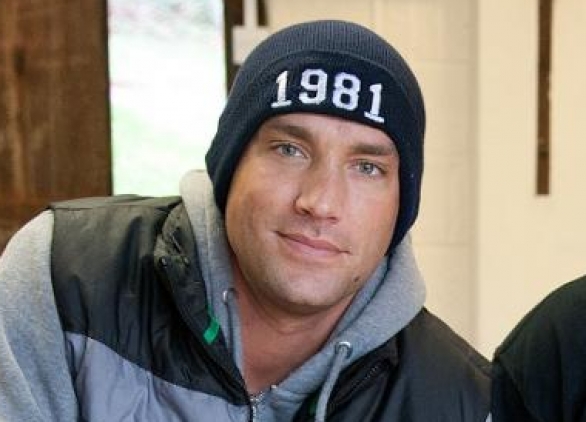 Calum Best at Shooka boot camp – the FULL interview
As promised in SSD11, here is the full, lightly edited interview with Calum Best about his experiences at January's Shooka boot camp in South Devon.
Find out why he took on the challenge, what he's found most challenging and what he's up to in 2013.
"For me on a personal level I looked at it as a way to kick start my year. Starting the year off, I've got loads of work and I thought if I could just come here and clear my mind and kind of fine tune my fitness, then it's going to help me for the rest of the year. I find that you come here, you get fed well and find out a lot more about nutrition and somebody like Stuart, who knows what he's doing, shows you how to do exercise the right way. Some people here can't make it to the gym every day so you learn how to do certain things in your house or in your back garden. But on a personal level it's a process of just trying to clear my mind and make my body better than it was.
"It's hard work though. We're on day four and everyone is exhausted. The hardest thing for me is the eating because I'm six foot three, 200 pounds, you know what I mean, and I like to eat and they narrow it down to three meals a day and strictly what they decide you eat. It's a very healthy, nutritional plan obviously but you're done by dinner at 7:30, and at ten o'clock I'm f***** starving. But you're only going to see results if you stick with the regime they give you, so it's f****** well worth it. I'm on my third one now and I leave here every time feeling great; like I said, I'd recommend it.
"I'm only talking about personal experience; everybody's different. I think a lot of boot camps are for people to come and shed pounds. On a personal level I'm in it to shed a little bit of weight but my main focus is clearing my mind. Back home it's f****** city life, it's constant, non-stop hustle. I'm working on my emails in the evening but I leave here having had no drink and no bad food for seven days. On the seventh day you're thinking about all this shit. My brain was clogged up before and my body was kind of clogged up. I possibly could put on weight because I'm taking some protein shakes for myself to help me gain some muscle. My focus to come here was to lose a bit around my waist and then also gain a little bit of muscle around my upper body. I think a lot of the other people here – the women that are here – they want to come and lose some stuff on their figure but also gain some tone as well. The group we've had here, they're powering through it. We started with twenty and now we're down to f***** twelve, you know what I mean, so it's a pretty brutal experience. It tests your brain, it tests your body. It's no joke, mate, you know.
"I leave here Friday; Saturday I start filming a comedy film, a British Independent film called 'Psyche', where I play myself; I've got another movie coming out that I start filming this year called 'Talking to God'; I'm building my brand around my name – I've got four fragrances and I'm doing a women's fragrance this year as well; I've got a clothing line coming out called 'Ibiza Boys' Club', and I'm doing a new boxing show with Jo Calzaghe the boxer and his father Enzo, the trainer. It's called 'The Calzaghe Boot Camp'; eight celebrities, six to eight weeks of training and then the final two have a boxing match, so I come here and somebody like Stuart shows me how to throw some punches and move my feet and stuff. You can do these things throughout the year but if you're talking about me, it's just a way to kick-start my year properly.
"It is tricky though; you're taking time off of work to come and do something like this but I f***** highly recommend it. Every single girl here I think is buzzing. Somebody had to leave today because they had to go back for work but they lost six pounds in f***** four days, you know what I mean? That's serious. It ain't easy losing weight. I could go home tomorrow, eat two cakes and be back to where I f***** started. Once you start this you've got to take what you're given by Stuart home and stick with it, which is almost f****** impossible but if you have a mind to do it you do it you know. I'm telling my friends where I am, and they're saying, 'Jesus, I couldn't do it,' but you can do it; just test yourself, get out of your f***** comfort zone, get up here, and go all out. When you get up here as a f***** human being you want to cheat; I'm looking at Stuart and when he's not looking try to avoid things, you know what I mean, but you give it your all and you'll see results. A girl, two days into this, literally had a moment, not a breakdown, but a point where she was like, 'Jesus Christ, I need to change my life.' These things change people's lives if you come here with the right attitude."
Interview by Neil Hocking, editor.
Don't forget to share with your friends!!