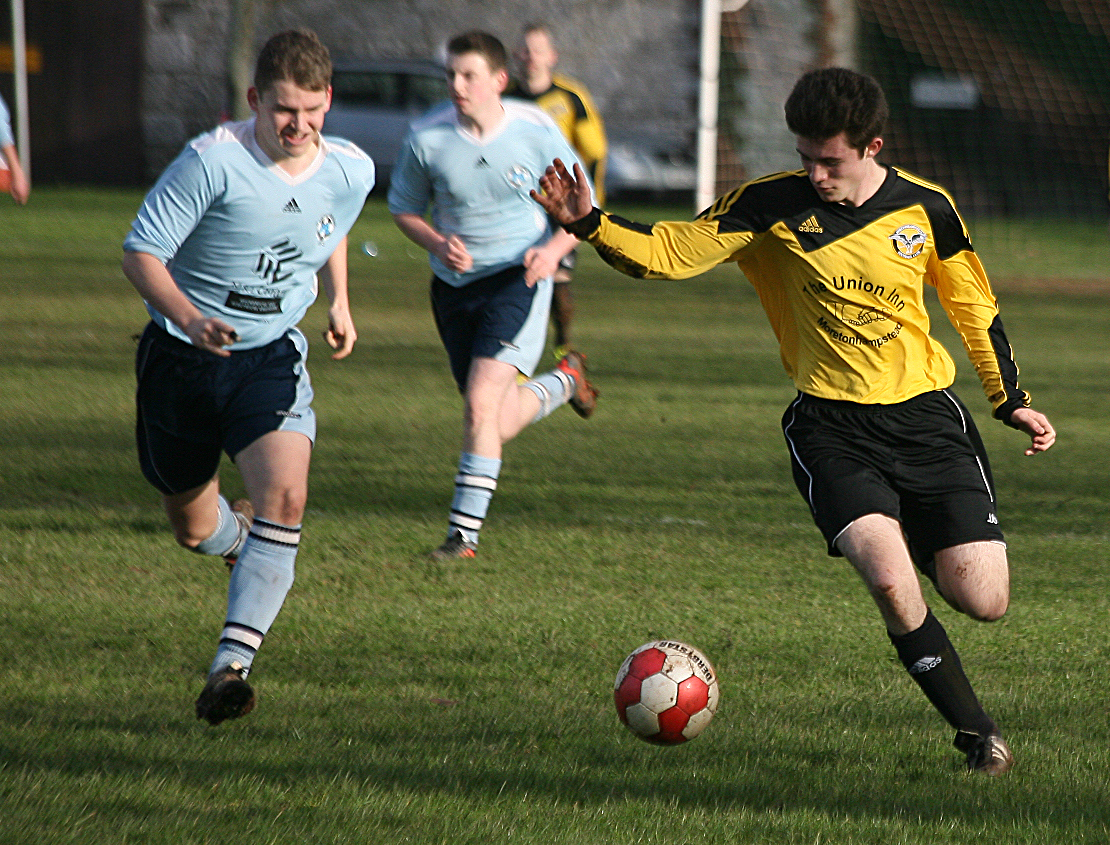 Big Guns Fall in Belli Cup
Attention shifted to the divisional cups this weekend, with some big guns falling in the first round of the George Belli Cup:
Despite Chris Mitchell's strike, Upton Athletic upended League champions Buckland Athletic Reserves 2-1 at Barton Cricket Club to get their campaign on the road, while holders Loddiswell Athletic continued their recent good form against Kingskerswell & Chelston, winning 2-1 at the Playing Fields with goals from Danny Tucker (2) and impressive second-half substitute Luke Bateman.
Stoke Gabriel progressed to the quarter-finals with a comfortable win over Newton Abbot Spurs Reserves. The first half an hour was a very even affair, with neither side getting into the game and a strong wind limiting the amount of football on show. But three goals in the final fifteen minutes of the first half set the seal on Stoke's victory. Just after the half hour mark, a left-wing cross found Neil Last unmarked; he expertly controlled the ball and clipped it over the onrushing Matt Lear in the Spurs goal to score against his former club. Minutes later, Jack Pollard lashed home from twenty yards when the ball fell kindly to him on the edge of the area. With Spurs reeling, Adam Richards capped a fine spell for the home side with a deflected effort from outside the box that left Lear with no chance. Spurs made all three substitutes in an attempt to rescue the tie, but failed to get on the scoresheet, Spurs' own Adam Richards with their best chance, his effort saved by home custodian Adam Simpson.
Kingsteignton Athletic defeated Ipplepen Athletic 2-1 at Broadpark to leave their opponents free to concentrate on Premier survival.
Holders East Allington United took a significant step towards retaining the Dartmouth Cup, beating Buckland Athletic Thirds 4-2 at Abbots Park; prolific Si Hannaford added another three to his burgeoning goal tally, with Chris Jebb also on target. McCauley (2) and Broadway scored for Dartmouth AFC, as the Division One high-fliers deposed Newton Abbot 66 3-1.
Brixham AFC Thirds enjoyed consecutive wins by knocking Brixham Town out 3-2 in the Lidstone Cup derby at St Mary's. Jed Tucker scored the only goal at the Cellars as Beesands Rovers ended Paignton Saints' hopes for a trophy. Horn, Beeschen and Chatfield spearheaded the celebrations at Hookhills United, as Stoke Gabriel Thirds grabbed victory in extra-time.
Loddiswell Athletic Reserves ended East Allington United's perfect start to the year with a 2-1 triumph at Poole Lane in the Ronald Cup. Hoops benefitted from an own goal from a former player, Wayne Kovacic, who still runs out for their vets! Si Davis also hit the net. Division leaders Ashburton also lost their first match of 2014, beaten 4-3 by a rusty Bishopsteignton United side who hadn't pulled on boots since before Christmas.
Only one Les Bishop match survived, Dittisham United recovering from last week's league disappointment to send South Hams rivals Harbertonford Reserves out 3-2 at Shinners Meadow.
No-one can accuse AFC Staverton of playing in a dull cup tie: after last season's roller-coaster ride, Stavy fought out a 3-3 draw with leaders Newton Rovers before bowing out 6-5 on penalties. Preston South End cruised through 7-2 against Riviera United, while Roselands Reserves progressed towards consecutive cup finals with a 4-1 home win over Polonia Torbay. Nine goals were shared at Long Lane as Buckland & Milber Reserves squeezed past Babbacombe Corinthians Reserves 5-4 in the Bill Treeby Cup; Lawton (2), Chancellor and Haylock scored for Corries but it was not enough. Moretonhamstead's Portuguese player Rui de Garces gave Ted Locke's side brief hope of an upset at Osborne Park with his first half opener, but Newton Abbot 66 Reserves (pictured in blue) recovered to go through 3-2.
With only eight teams in Division Six this season, semi-final places were immediately up for grabs in the Ivor Andrews Cup. Stoke Fleming & Strete met Malborough United for the second time already this year, defeating their near-neighbours 2-1. Watcombe Wanderers Thirds also made the final four, beating Teign Village Reserves 4-2 away; Ricky Bergin, Jamie Carter, Sam Pyne and Kirk Finch struck for the Greens.
In the League, Brixham AFC moved joint top with a 3-1 win against Waldon Athletic at Wall Park. The clubs were due to compete in the Belli Cup at Windmill Hill, but that match was called off.
Kingskerswell & Chelston leapt into the top half of Division One with a comfortable 5-1 home win over Buckfastleigh Rangers, Richard Anthony with Rangers' consolation.
In Division Three, Waldon Reserves' run of poor form hit a new low as they went down 3-0 at Halford to present Liverton United their first points of the season.