Barrow & Couch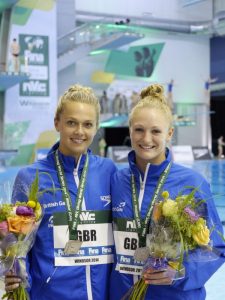 Sarah Barrow & Tonia Couch are one of the best 10m diving pairs that this country has ever produced. The GB duo both live and train in their home city of Plymouth and uses the fantastic facilities at The Life Centre on the edge of the city centre. Coached by Andy Banks, Sarah and Tonia have won a number of national and international medals between them over the last few years.
In 2014 the goal for the girls is to reach the Commonwealth Games finals in both the individual competition and the synchro event and bring home a medal to add to their collections.
In this section you can read all our reports, interviews with the pair, plus Sarah Barrow's featured blog with us at Sport South Devon. Simple click on the links below to read all our articles on these diving sensations. 
Sarah Barrow's Stats:  
Career Individual PB: 351.50 (2014)            
Seasons Individual PB: 351.50 (2014)
Career Synchro PB: 327.18 (2012)                           
Seasons Synchro PB: 321.24 (2014) 
Date of Birth: 22/10/1988      Age: 25                      
Place of Birth: Plymouth, Devon
Synchro Partner: Tonia Couch
Coach: Andy Banks
Club: Plymouth Diving Club
International Best Results:
Olympic Games – Synchro – 5th Place – 2012 (Partner Tonia Couch)
World Champs – Individual – 4th Place – 2013
World Champs – Synchro – 4th Place – 2011 (Partner Tonia Couch)
Euro Champs – Individual – 4th Place – 2013
Euro Champs – Synchro – Gold 2012 & Silver 2013 (Partner Tonia Couch)
Commonwealth Games – Synchro – 4th Place 2010 (Partner Tonia Couch)
FINA World Cup – Synchro – Bronze 2012 (Partner Tonia Couch)
World Series – Synchro – Silver 2014 London & Canada (Partner Tonia Couch)