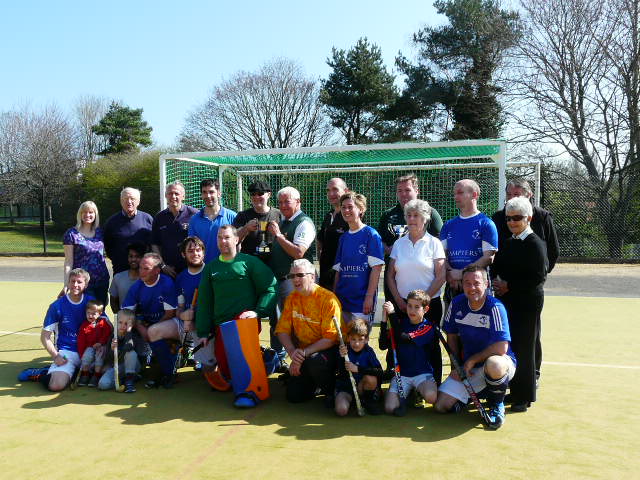 All Saints and Esandars Claim Trophies in 65th Torbay Easter Hockey Festival
A very successful and high scoring Torbay Easter Hockey Festival concluded on Monday 6th April with newcomers ALL SAINTS ( St. Andrews University Alumni H. C. ) claiming the Bill Stickles Cup, awarded to the highest scoring team, with 47 goals. The ESANDARS ( Robinsons H. C., Bristol) were a distant second with 33 goals.
The Redcliffe Cup for fair play was won by the Esandars (pictured, receiving the cup from Tony Forward), after they gained maximum points from their opponents. The Esandars had previously taken the Fair Play Cup in 2007.
There were only two unbeaten sides this year – the All Saints and the ODDFELLOWS (a festival team loosely based on Exeter University and Thames Valley H. Cs), the latter making their 65th consecutive appearance. Both won all of their games.
Local club Pink Panthers (incorporating Torbay H. C. Torreadors) had a good weekend – winning three, drawing three and losing just the once.
During the concluding Conference meeting it was confirmed to the 15 attending teams that the 2016 Festival would take place, and that it was hoped that all would return for this 66th event. The Committee will also be taking steps to increase the attendance, 18 being the optimum for pitch utilisation.