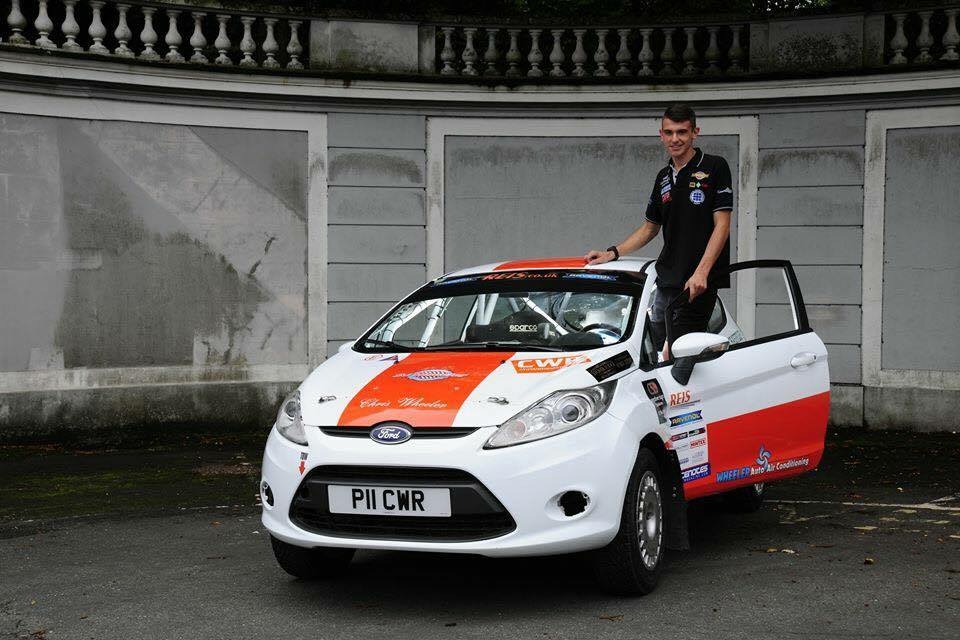 Wheeler's Spin – New Car, New Challenges and New SSD Column for Torquay's Own Rally Ace Chris Wheeler
We at Sport South Devon are thrilled to welcome 21 year-old Torquay rally driver Chris Wheeler onboard as he prepares to embark on what could be his most exciting year to date.
As we explained in our previous article, 2015 was a successful one in the BTRDA for Wheeler and co-driver Yan Griffiths. They finished second in their class in four events to become the 2105 RF1.6 Class Champions and scooped two further podium places with second place in the Vital Equipment Junior Championship and third in the Vital Equipment Rally First Championship.
Through his exclusive "Wheeler's Spin" column, Chris will be sending us regular updates throughout the rally season, which starts in early March, and giving SSD readers an insight into what life on the BRC circuit is like.
To rev up his brand new column, Chris has explained what's in store for him and co-driver Yan Griffiths in 2016:
"Yan and I have set our 2016 championship aspirations in the British Rally Championship Junior category. This category has been designed for under 26 year olds who inspire to be the next big British rally star. This year's championship contains seven rounds from Wales, Scotland, England, Ireland and the Isle Of Man. The rounds take place on both Tarmac and gravel surfaces.
"I am stepping up to the challenge to compete in the highest level of rallying in the UK against strong competition and at the very best stages to drive in the UK. After a good season in 2015, Yan and I are looking to build our pace through 2016 and to pick up good experience at this high level of competition.
"I am stepping up to the challenge to compete in the highest level of rallying in the UK against strong competition" – Chris Wheeler
"2016 also sees us in a new car; after the past few years of competing in an M-Sport Ford Fiesta MS1, we now step up into an R2 specification car – which will be revealed during February.
"The season will be filled with drivers and co-drivers from all around the world competing in the R2 cars which this category has been regulated to run.
"Here is a list of this year's championship rounds & dates:
[box]
Mid Wales Stages – 5/6 March
Circuit Of Ireland –  8/9 April
Pirelli Rally –  30/1 May
RSAC Scottish Rally –  25 June
Nicky Grist Stages –  9/10 July
Ulster Rally –  19/21 August
Isle Of Man –  15/16/17 September
[/box]
"This season gives the Junior category massive opportunities: the winner of the championship will get to compete in five rounds of the DMACK World Rally Championship, in an R2 car, in five different countries in 2017. If you win the championship in 2017 then the next step would be a drive in the World Rally Championship in an R5 specification car.
"Sponsorship will be needed for this highly ambitious season, so if you feel your company would benefit from TV Coverage, and huge publicity we have a package that would suit you. Please do not hesitate & miss the opportunity of a lifetime. Contact us by sjwheeler@btconnect.com or 07775795572."
"On Saturday we were in Birmingham for the BTRDA Awards Night to pick up our award for winning our class in 2015 – a fantastic night to start off 2016.
.
"So that's how everything is set: a new year has arrived and a championship that is bigger than ever. There is plenty of action to look forward to throughout 2016. Stay tuned everyone!"
Follow Chris' progress:
Facebook: Chris Wheeler Rallying
Twitter: @ChrisRally
Website: chriswheelerrallying.com