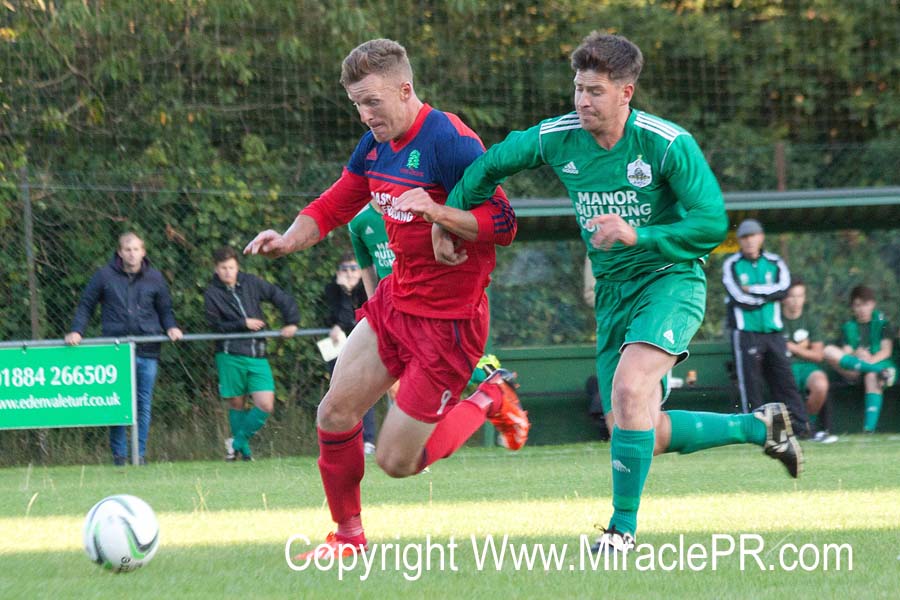 Upton to Kick-Off SDFL Season at Poole Lane
Picture: Upton striker Ryan Hare (left) in Charity Shield action last week. (c) MiraclePR.com
Upton Athletic will travel to newly promoted East Allington this afternoon to kick off the SDFL season. Athletic will have to dust themselves down from their late defeat in Wednesday night's Charity Shield to focus on getting a result in the South Hams, with the Poole Lane Pirates certain to put up stern resistance.
During the close season, Upton have brought in goalkeeper Adam Simpson and Sheridan Gagg from Stoke along with Jamie Philpott of the Torbay Police and former Bovey midfielder Dejan Maric who is currently away travelling. But they will be missing their talisman Darren Bastow who has opted to play for Moretonhampstead this season.
East Allington had enticed James Ivatts back from neighbours Loddiswell Athletic with Ed Roberts and Andy Davis also returning to the squad.
Upton boss Steve Kingscote didn't think that the Charity Shield result would have a big impact on today's opener which he saw as part of a long-term vision for the club's return to power.
"We'll bounce back from this. It's about rebuilding this year and we've got youngsters coming into the team. Whether we win anything this year or not, the club's on the up; we'll be back. Trophies will come our way whether it's this year, next year or the year after. We stayed at the top for years and years. People come and people go but we'll still be there at the end of the season, I guarantee it.
"We had a couple missing and we changed our play and formation. We'd normally like to get the ball down more and pass," Kingscote added.
"It's about rebuilding this year…Whether we win anything this year or not, the club's on the up" – Steve Kingscote, Upton Athletic
East Allington United manager Martin Weeks, who had previously expressed uncertainty about his side's readiness for their Premier return after two years in Division One, has changed his tune after a promising recruitment drive, some good results in the pre-season and their successful retention of the Dartmouth Cup.
 "We've got a stronger squad and we are ready now," Weeks said. "We've got a bit of strength in the reserves as well with Jack Massey and Luke Robey back from Corries which is all good for the first team. All the boys who stepped up last year will be pushing for the first time against this year.
"We want to hold our own in the Premier, and I'm sure we will. If we can keep them all together."