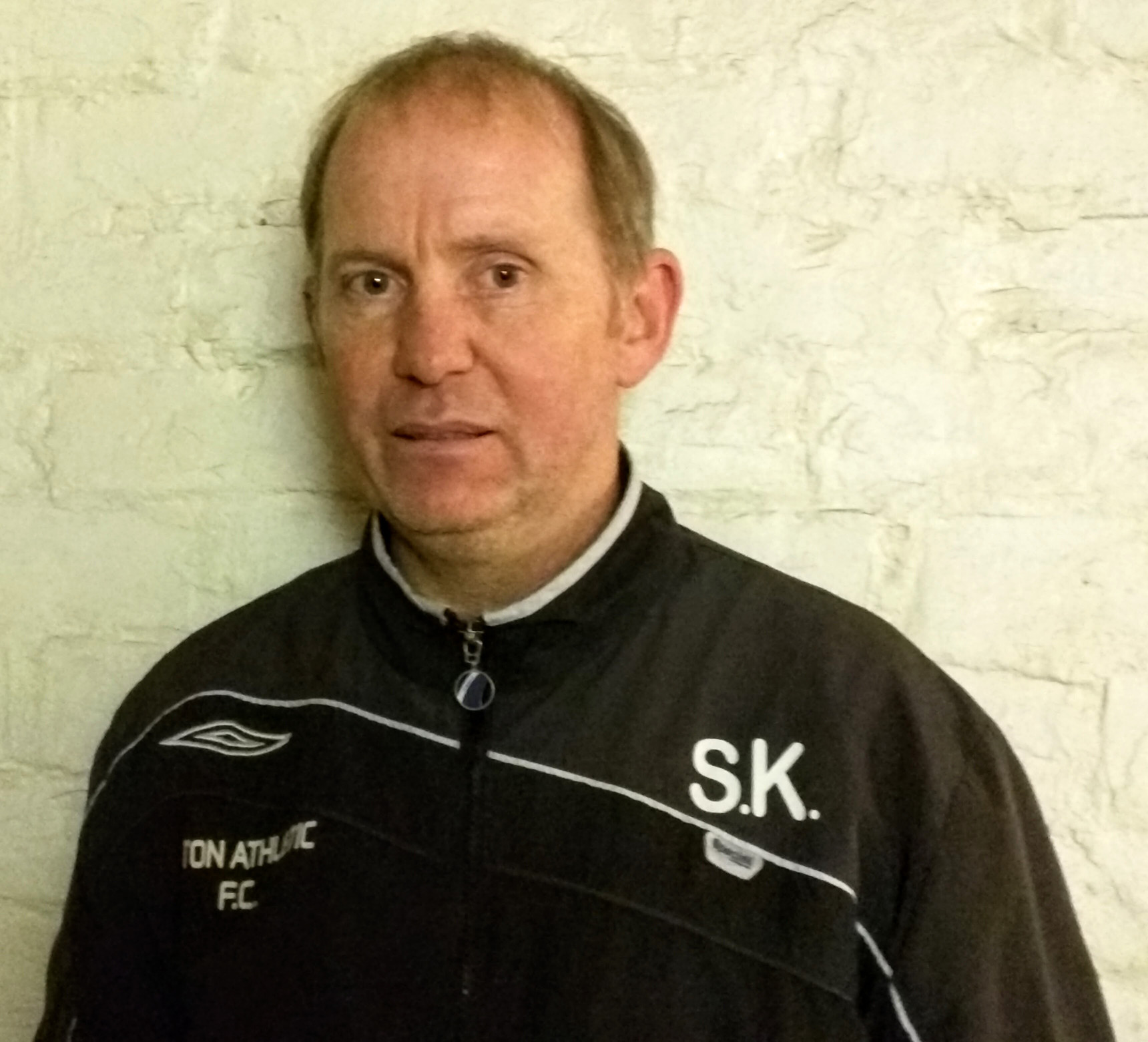 Upton and Watcombe Share Point; Cup Success for Spurs and Teigns (Local Football Round-Up Part 2/2)
Photo (c) Sport South Devon
Neither Upton Athletic nor Watcombe Wanderers were particularly excited about sharing the spoils in their Torquay derby, but on reflection, Upton have at least brought to an end a three game losing run while Watcombe remain top of the Premier and unbeaten.
Sean Finch put Watcombe one up in the first half, but an off-the-ball incident saw Shaun Hadley dismissed and Jason Manley cautioned, an imbalance that the visitors were particularly incensed about. Upton made their man advantage count, centre-half Ben White equalising, but despite having chances to go ahead couldn't find a second goal. The match ended with Upton on the defensive and Watcombe piling on the pressure but Upton held firm to claim their point.
"At the end of the day, a point is a point and we've just got to get ready for the next game now," said Upton manager Steve Kingscote (pictured). "We've brought in three young players – Matt Tall and Jordan and Ollie Kewell – to bring down the age gap and we're going to take each game as it comes and go and enjoy it. Next week against Dartmouth we'll go and give them a game and see what happens."
Third-placed Darts are also still unbeaten after they narrowly beat bottom side Kingskerswell & Chelston 4-3 but defending champs Buckland Athletic are now the only Premier side with maximum points; they stay a point behind Watcombe after winning 4-2 at Stoke Gabriel Reserves. Fred Massey and Tom Harvey struck for East Allington United who secured their third win of the season, away at Ivybridge Town Reserves. Newton Abbot Spurs Reserves have also now won three; they moved up into the top six with the only goal in a home derby with Kingsteignton Athletic. Brixham AFC were held 0-0 by visitors Loddiswell Athletic who pick up their first point after a tough early start for the South Hams side.
In Division One, Newton Abbot'66 moved into pole position with an emphatic 4-0 victory at home to Totnes & Dartington Reserves who now sit bottom; Sean Boldick scored a brace for '66 with Tom Lowe and Darren Morgan also finding the net. Buckland Athletic Thirds won 2-1 at home to previous leaders Ashburton to move to within two points of their opponents. Beesands Rovers finally picked up a victory with five goals and a clean sheet against Buckland & Milber while unbeaten Foxhole United went one better with six goals against Kingskerswell & Chelston Reserves. Ipplepen Athletic defeated Paignton Villa 1-0 and are also yet to lose. Other results saw Corries overcome Bovey Reserves 3-2 at Barton Downs and Chudleigh enjoy a 5-3 victory away at Stoke Thirds.
In Division Two, Simon Ross and Dean Swift scored the goals that see Watcombe Wanderers Reserves still at the head of the table, the final score 2-1 at South Brent. Buckfastleigh Rangers squeezed a 3-2 win against Brixham Town to stay marginally ahead of Roselands who slammed Waldon Athletic Reserves 10-0 to reach 47 goals in just five games. Paignton Saints had a day to forget after throwing away a 3-1 lead at Whiterock to leave themselves and opponents Newton United as the only two sides in the division still yet to win a match. The first half was full of half-chances and Saints hit the bar through Sean Cotton, but there were no goals in the first half. That changed early in the second half as a push on Sean Hooton brought the hosts a penalty, Jason Dingley calmly stepping up to slot it away. Ben Pegg then found Hooton on the edge of the area and his shot bobbled over United's 'keeper's hands for two-nil. Saints switched off and got caught napping as Newton clawed one back, but Saints picked themselves up and a nice ball from Ritchie Elliott to Joe Jordan ended with the latter skipping inside two players and smashing home a third across the goalkeeper. But Saints failed to learn their lesson, switching off at the back post with ten minutes remaining and allowing Newton a lifeline. Jordan's clumsy late challenge then led to the last minute equaliser, a United player slipping his marker to head home right on the whistle. The result replicated the sides' three-all draw from Denbury Playing Fields with Justin Lashley, Jordan Ewing and Jamie Lock the goalscorer for Newton. Kingsteignton Athletic enjoyed a 5-1 triumph over Hookhills United at Broadpark. The usual goalfest between Teignmouth Reserves and Abbotskerswell didn't disappoint with Teigns winning 5-2, while Harbertonford were in prolific mood at home to Bishopsteignton, 9-2 the score from The Hams.
East Allington United Reserves still lead the way in Division Three after a 6-3 home win over Upton Athletic Reserves who are yet to win a match. Liverton United Reserves conceded their first league goal of the season but scored four of their own to send AFC Staverton to their first defeat. Salcombe Town moved up to third by hammering Buckfastleigh Rangers Reserves 7-0. Dittisham United's nightmare start goes on, the Plums going down 2-0 at Chudleigh Athletic Reserves who post their first win. Dartmouth Reserves moved up to fifth with an emphatic 6-1 result at Teign Village; Harbertonford Reserves racked up back-to-back victories with a 3-1 success at winless Waldon Thirds and it was no goals but a point apiece for Torbay Police and Ipplepen Reserves.
Barton Athletic are the big climbers in Division Four, Neil Last and Kriss Darke with doubles as Athletic won 4-2 at Broadmeadow. Previous leaders Watcombe Wanderers Thirds were held 1-1 at bottom side Ashburton Reserves, while Babbacombe Corinthians Reserves also upset the form book with the only goal at the Dorothy Elmhirst ground to end Meadowbrook Athletic's perfect record. Newton Rovers and Riviera United enjoyed wins in high-scoring matches, Rovers beating Torquay Town 6-4 and United overcoming Paignton Villa Reserves 5-3. Roselands Reserves went down 3-2 at Kingsbridge & Kellaton United who celebrate their first win – as do Newton '66 Reserves as they won 2-1 at winless Ilsington Villa.
In Division Five, Torbay Police Reserves hold a six point lead following a narrow 3-2 home win over Newton United Reserves who scored through Guttridge and Mills. Broadhempston United Reserves moved above Riviera United by thrashing them 7-1 at Headlands, while Buckland & Milber Reserves thrashed Newton Rovers Reserves 11-1. Moretonhampstead were also back among the goals, winning 6-0 at Chudleigh Athletic Thirds. Paignton Saints Reserves lost their second game in a row after a disappointing display against Watts, Blake & Bearne AFC. After losing the injured Tommy Watkins inside the first 20 minutes, Saints never recovered and a consolation from Luke Pocknell was all they could manage in a 4-1 defeat. With Stoke Fleming & Strete achieving their first points – and win – of the campaign, 3-1 away at Barton Athletic Reserves, their opponents now prop up the league with four defeats from four games.
Newton Abbot Spurs pulled off a surprise win at Camelford in the Second Round of the Walter C Parson Funerasl Director Cup. The hosts went on the offensive from the first minute, Josh Insley heading Patrick Rushton's free-kick towards goal but Scott Bellamy equal to the task. After 15 minutes, lone striker Carl Bradley made the most of a defensive error to set up Shaun Bowden, but the midfielder could only clear the bar. Six minutes later, Bowden's corner found the head of Chris Metters, but the ball hit the crossbar and, two minutes later, the bar was rattled at the other end as Bellamy saved well from a Dan Balsdon volley. Then, on 37 minutes, the visitors made a breakthrough, Bowden latching on to Mark Brooke's long ball, taking it past home 'keeper Aaron Gregory and coolly finishing from a tight angle. Camelford were rocked further on half-time after the home defence pulled up for an offside flag that never came, leaving Martin Haynes little option but to bring down Sam Hancox – and the referee little option but to send the home player off.
After the break, Camelford came out determined to make up for the loss of Haynes, and their efforts nearly brought an equaliser just after the hour mark, captain Kevin Dadd clearing substitute James McNary's effort off the line. Ten minutes later, player-manager Adam Dyson, who was taking up a position on the left wing for this contest, all but sealed Spurs' victory as he picked up a fine reverse pass from Bowden and fired low past Gregory from just inside the area. Balsdon almost fashioned a goal two minutes later, but McNary missed the target and Spurs duly booked their place in the last 16, the Lambs of Tavistock, who beat Stoke Gabriel in the league this week, standing between them and their first ever quarter-final place.
Teignmouth join Spurs in the next round, Steve Smith and an own goal seeing Geoff Breslan's side through against Holsworthy. Teign will host another Cornish outfit, Helston Athletic, another side Stoke Gabriel will know plenty about after their home defeat in September.
Brixham AFC were also away in the Duchy but couldn't join in the celebrations, conceding the only goal at Lux Park to exit the competition.
In Division One East, Galmpton United moved into the top five, and above opponents Budleigh Salterton on goal difference, with a comfortable 4-1 win at Greenway Lane. Despite being without in-form George Dandridge, goals from Kyanoosh Roughani, Lloyd Clark, Mark Barkwell and Adam Crogan sealed the points for the Greens. Bovey Tracey fell off the pace with a midweek 4-2 home loss against Appledore but Totnes & Dartington and Liverton United both achieved much-needed victories. Tots were two up by the interval in their home tie with Sidmouth Town, and Myles Chalcraft added to George Savva and Charlie Johansson's strikes after the break. The visitors hauled themselves back into contention with two goals, but Johansson scored his second to settle nerves and wrap up a vital three points. The Lillies were also desperate for a second win to keep them away from the bottom and were never behind in a 3-2 away win at Alphington, taking the lead through Thomas Johns in the first half, going 2-1 up through Ryan Beattie after the break and finally squeezing over the line courtesy of an 86th minute Connor Stewart strike.