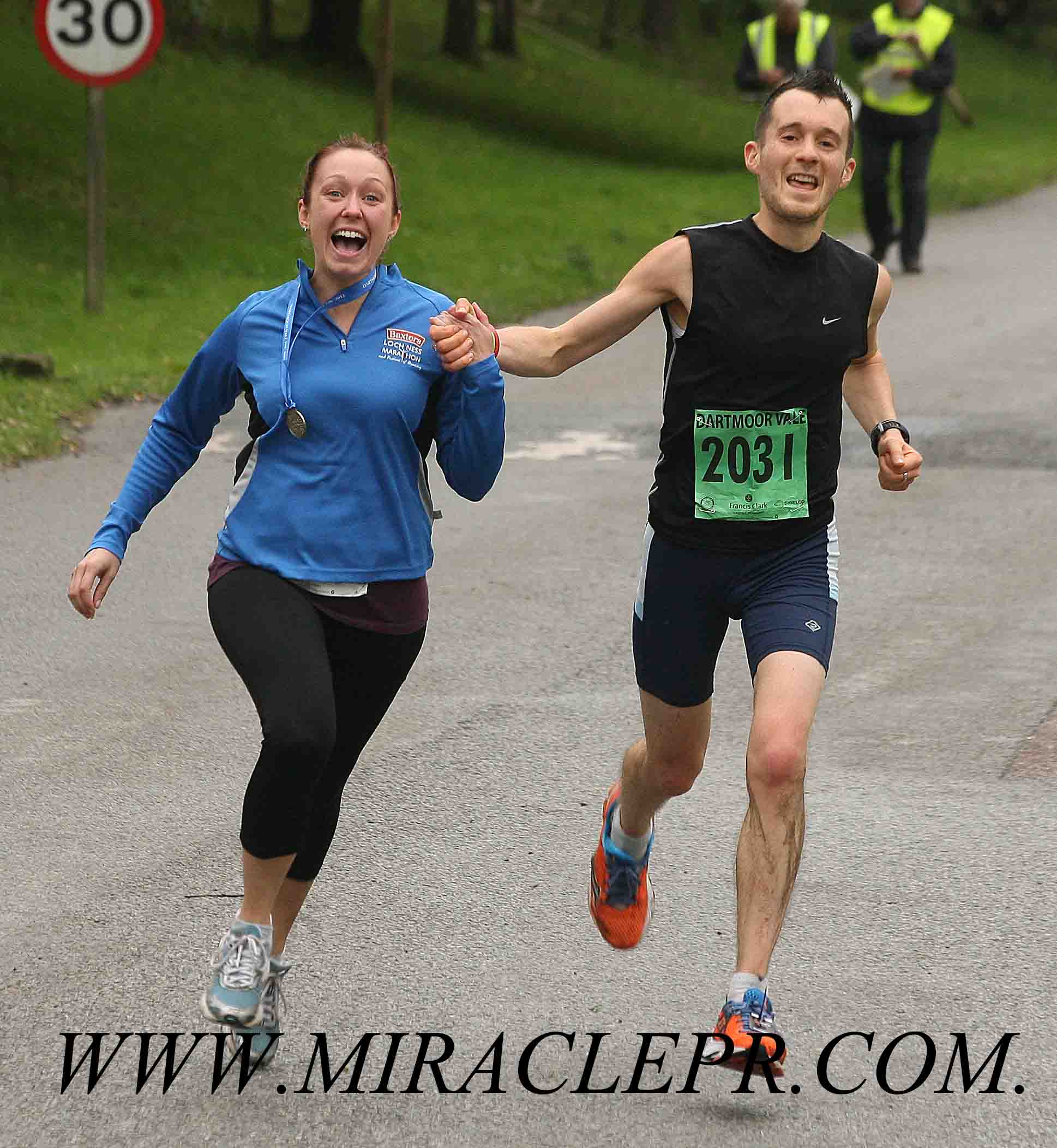 Touching Finale to Dart Vale Races
Here is the moment when Donna Turner ran in alongside boyfriend Joe Elliot to accompany him over the line in the Dart Vale marathon on Sunday 20th October.
The couple had come all the way from Southend to take part, so we caught up with them at the finish line to find out more.
Sport South Devon: "Tell us the story about why you decided to take part in this event?"
Joe Elliot: "I did Paris, then London, then Halstead, three in a month. I was driving to Halstead, and Donna was looking on her phone and she found this one, because my parents have got a cottage in Okehampton, so we thought we could come down here for a long weekend and I'd do the marathon and she'd do the 10k, which she did."
SSD: "How did you do, Donna?"
Donna Turner: "Good. He's got my watch so I don't really know what my time was. I think I beat my best, I'm not sure."
(0:53:20 by the way!)
JE: "I usually do a few marathons at the start of the year and a few at the end so I chose this one to be the last one of the year.
"I got a personal best in Paris, then the Guinness World Record (for fastest marathon in a suit) in London, then a fifth place finish in Halstead and now obviously this."
Given those results and the fact that, with a time of  2:51.49. Joe finished more than 7 minutes before runner-up Dominic Taylor-Jones, I wondered whether Joe knew he was on to a winner.
JE: "No, not at all. I got knocked down about ten weeks ago by a car and really did my back in. If you pull up any of my training runs none of them would have dictated a finish like this at all. It just seems to have fallen into place again, so I'm really pleased.
"It was really difficult; I would have slowed down if I knew I was this far in front" [they laugh]
"It means the world to me. I couldn't do it without Donna, because she puts up with my training" – Joe Elliot
SSD: "What was the hardest part?"
JE: "The hills. There's a couple of horrendous hills for about five or six miles. Someone said there was a hill and I thought I'd done that hill but then the second hill was worse than the first.
"It means the world to me. I couldn't do it without Donna, because she puts up with my training. I get up five o' clock every morning and run in the evening, so there's no-one more patient than this one."
Congratulations to a lovely couple!
For more pictures, and to find out how the local athletes fared, don't miss our feature in Sport South Devon Issue 15, out December.
To view pictures of all competitors in the 10k, half and full marathons, go to: https://miraclepr.photium.com/dartmoor-vale-runs-2013