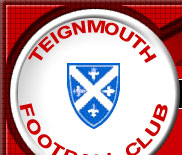 Teignmouth Top Brixham for South Devon's Only Win
It was a disappointing afternoon for most South Devon sides in the SWPL Division One East, but Teignmouth won't care about that as they enjoyed a convincing 3-0 victory over high-flying Brixham AFC in a passionate but good-natured derby.
Jake Smith, Geoff Breslan and Ryan Bush found the net for the home side with the Fishermen unable to find an answer. It was the end of a four game winning streak for Jason Couch's side while Teignmouth, five points behind, have now won five in succession.
Worse still for the visitors was the knowledge that they could have moved into the top four and above Stoke Gabriel who were surprisingly held by bottom of the table Exwick Villa, Ryan Saunders the goalscorer for the delighted hosts.
Liverton United went one up at Budleigh Salterton as they sought to extend their recent run of good form, Sean Finch with another goal for the Lillies. But the joy turned into frustration as the home side turned the tie around and ran out 3-1 winners.
Bovey Tracey had come off the back of three disappointing derby defeats as they faced a trip to a Torridgeside outfit that had walloped them 8-1 in last month's reverse fixture. The Moorlanders were also very light on players with two of their players over 40 year's old. Nevertheless, the visitors played their part in this game and despite being put under early pressure they even took a 23rd minute lead from a break. That lasted less than ten minutes as the North Devon side scrambled an equaliser before inching ahead with a penalty kick awarded in the dying minutes of the half. Five minutes after the restart, a superb free-kick saw Bovey equalise and then George Folland's 67th minute dismissal gave them real hope of hanging on to an unlikely point. But Torridgeside had other ideas and produced a winning goal in the 8oth minute to send the South Devon side away empty-handed.
Totnes and Dartington were once more on the wrong end of a tight result, pushing Sidmouth Town all the way but unable to make a breakthrough. Both sides had chances in a tentative first half, wingers Connor Swingler and Nathan Antat looking dangerous for the visitors but Tots with the best chance of the half, a well-hit free-kick drawing a fine save from Jamie Harvey. Tyler Wellman, the Vikings' Devon Under-18 midfielder, had missed with a header in the first half but he played a crucial part in the 65th minute decider, sending in a delightful long-range free-kick from the right which was headed into the net by Riki Pitter, recently returned from a stint at Budleigh. Tots immediately stepped up a gear but despite some intense pressure couldn't find an equaliser.
Newton Abbot Spurs were hoping Galmpton United could do them a favour by getting a result at home to Crediton United. Despite a valiant effort by the Greens, goals by Lawrence Khoo and Richard Groom saw Creddy win 2-0 and retake the Division East top spot.