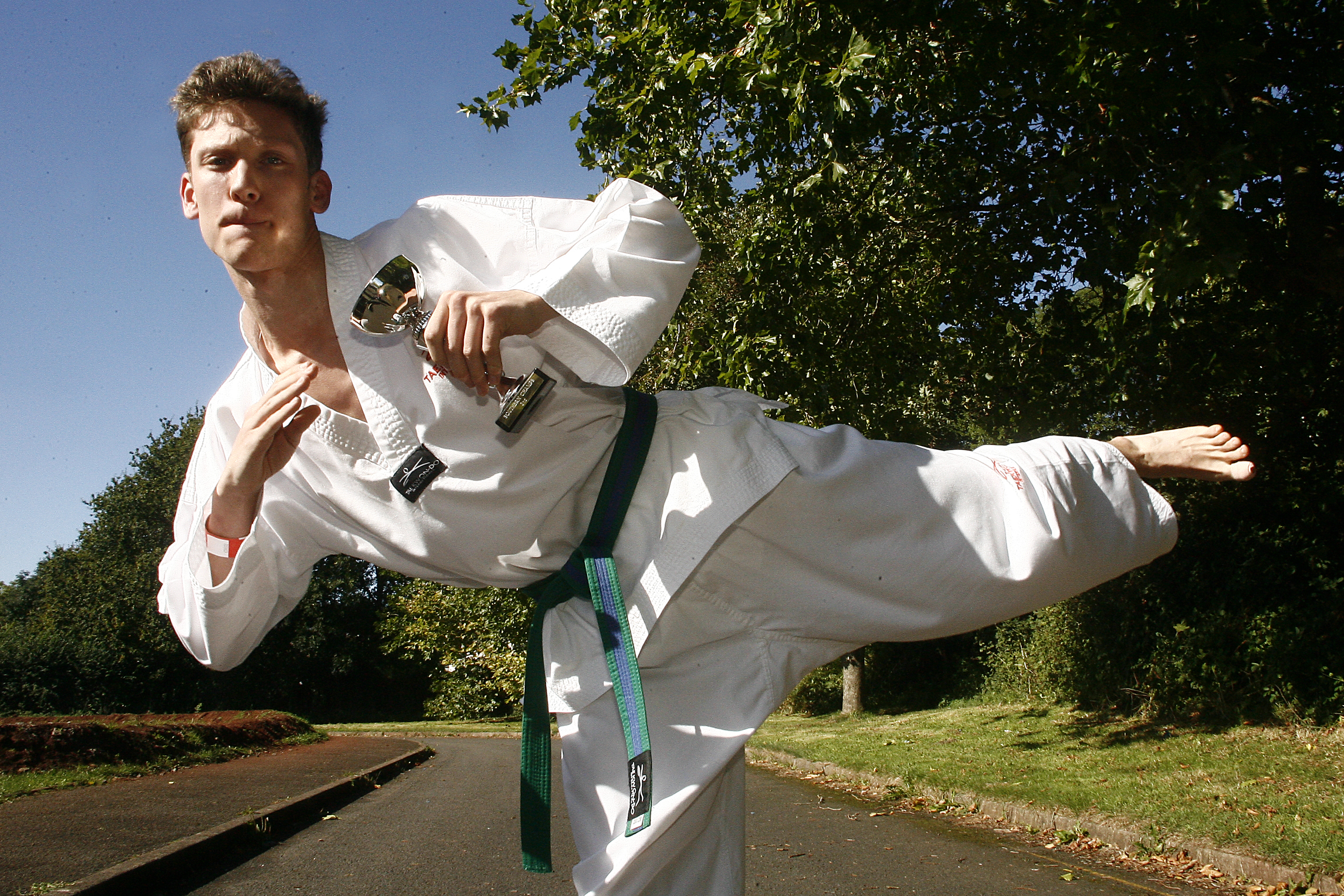 Tae Kwon Do Torbay Win Big in TAGB Championships
Main Picture: Tiuri De Jong of Tae Kwon Do Torbay who won silver in the mens green belt patterns and bronze in the mens yellow/green belt sparring. De Jong, together with Rob Pickering, also helped secure the silver in a Paignton tag team 1-2. Luis Hegarty and Noah Hodges won the gold. (c)MiraclePR
Around 360 competitors and 80 officials from across the South West descended on Torbay Leisure Centre last weekend for the annual TAGB Southern Championships with competitors from as far away as South Wales and Bristol cheered on by a crowd of about 200 spectators. Among them were representatives of South Devon's local tae kwon do schools including MartialArts4Fun, who run schools in Teignmouth, Newton Abbot, Ashburton, Bovey Tracey, Chudleigh, Dawlish and Moretonhampstead and Tae Kwon Do Torbay with schools in both Torquay and Paignton.
It was already looking to be a productive day for Tae Kwon Do Torbay when SSD caught up with its lead instructor and event host Andy Saunders towards the end of the junior competitions. "We're up to two silvers, four bronze and a gold," said Saunders. "And that's just in the juniors; the adults haven't started yet so for us that's a bit of a record already." It was also a record turnout for the schools with Saunders' switch to an 'opt out' process delivering just short of 30 competitors ranging from beginner yellow belts up to experienced second degree black belts and, in age, from just over seven to mid forties. A number of the participants were experiencing their first taste of competition and some of those came away with silverware. "It's a daunting prospect to do something like this in front of all these people," added Saunders. "I'm not competing but I like to come down to support the students and hold their hand a bit."
And as the adults took to the floor, it wasn't long before Saunders was roaring down yet more congratulations from the balcony as Lee Hegarty, in his first ever competition scooped the gold in the mens' yellow belt patterns.
"I was quite nervous about it to be honest with you," admitted Lee, whose sons Luis (12) and Oscar (10) also picked up silverware. "It was a bit of a shock but I'm proud because I have put a lot of work into it."
Will Chan and Jonathan Clayton also claimed gold for the men in foot destruction and yellow/green belt sparring respectively to add to the golds already won by Skye Kelly in the Under 16's red belt patterns and Noah Hodges and Luis Hegarty in the tag team.
"My clubs have started to build and build over the last few months,"revealed Saunders. "The strength of TAGB in the South West is going up and up as is Tae Kwon Do."
With British Tae Kwon Do making the headlines in the Olympics with Lutalo Muhammad's last second defeat and emotional reaction, I wondered if that had had an impact in the popularity of the Korean martial art.
"If it had been me, I would have run away in the opposite direction," said Saunders. "He had one second to go and could have just turned his back and his opponent would never have scored but hindsight is a wonderful thing.
"Olympic tae kwon do is purely the fighting aspect and it's a watered down version of what we do. It focuses an awful lot on kicking with the occasional punch but if you watch some of the guys around here, they're mixing it up quite a lot. In Olympic tae kwon do there's lots of different ways of scoring; they score more with a spinning kick whereas we score three points for a kick to the head, two points for a kick to the body and one point for any hand technique anywhere. In class we do both patterns and the sparring aspect.
"The Olympics has given a bit of a rise in tae kwon do numbers but people don't come to my classes wanting to be Olympians or athletes. They just see it and are interested and want to have a go at it. They come along and see that it's all-encompassing. For me, I've been doing it for 16/17 years and it's a way of life.
"For the kids it opens up opportunities. Some of them are black belts at a very early age and employers look favourably on that if that's on their cv. They've spent three and a half years of their life, minimum, to get from white belt to black belt and that shows commitment. It's important for kids to show that commitment because it breeds a really positive attitude.
"Our tenets are courtesy, integrity, perseverance, self-control and indomitable spirit. A lot of them take it back into school and I get reports back from teachers saying that they've become more polite, more attentive and seem fitter and healthier."
Following the Southern Championships, will be November's British Championships with Saunders looking to bring a number of his students up to Derby but, before that, he is hoping that his daughter Lauren, 18, will become one of the youngest third degree black belts in the area when she travels to Bristol for her grading along with other club members.
"We had our black belt pre-grading last week, we've got training tomorrow and next week and then we've got the grading the week after," said Saunders. "We have a lot of black belts gearing up for their Dan grades and black stripes gearing up for their black belts so it's a busy time of year for us in October and November."
The TAGB Southern Championships is becoming a popular staple on the annual South Devon events calendar and seeing the buzz around Torbay Leisure Centre it is easy to understand why. For Tae Kwon Do Torbay, the event was particularly memorable with a final haul of 22 medals from 26 competitors, including six golds and the Paignton school finishing second out of nearly 50 schools (pending final confirmation). Despite his pride, Andy Saunders was keen to emphasise that the event was much more than about scooping medals.
"It's a massive confidence booster," said Saunders. "Some of the students come in very confident anyway but they don't know what to expect in a tournament. They've done gradings before but something like this is a different kettle of fish. Some are dubious about entering their first tournament and not sure about whether they want to do it; but once they have it gets their hunger going for more, especially if they are successful and they start coming away with medals and trophies. Even if they don't, they see others in the club and they think 'I can do that!' "If they come away with experience, that's good enough for me."