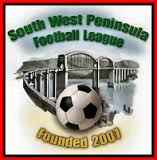 Stoke Keep Up The Pressure
With leaders Galmpton having played more games than their rivals they had a day off today and that allowed both Teignmouth and Stoke Gabriel the chance to close the gap which they both took but only narrowly.
Teignmouth are 3 points behind Galmpton after a 1-0 win away at Okehampton Argyle whilst Stoke Gabriel in 3rd place are 5 points behind Galmpton after coming from behind to beat Sidmouth Town 3-2.
Stoke Gabriel entertain Newton Abbott Spurs on Tuesday night, before a massive fixture against league leaders Galmpton on Good Friday. Meanwhile 2nd placed Teignmouth entertain Axminster, also on Good Friday.  
Away from the title race there were just two winners with Totnes & Dartington bouncing back from a heavy defeat at Teignmouth last weekend to beat Liverton United 2-1 and the University of Exeter pulled away from the bottom pack of sides with a 2-0 home win over Appledore.
Two games ended in draws with Plymstock United climbing off the bottom of the table with their point from a 2-2 draw away at Alphington and over at Axminster Town it was a 1-1 draw with their visitors Newton Abbot Spurs. 
(Report provided by www.swpleague.co.uk)