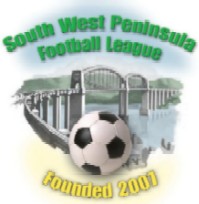 Stoke and Spurs Take Over at Top
There was another change in the shifting permutations at the top of the South West Peninsula Division One East this weekend as wins for Stoke Gabriel and, on Wednesday, Newton Abbot Spurs saw the pair take over from fellow South Devon sides Brixham AFC and Teignmouth who drop to fourth behind resurgent Appledore.
Newton Abbot Spurs entertained the Vikings of Sidmouth Town on Wednesday evening after nearly three weeks without a game. But they got right back to business with their sixth straight victory. It was not a walk in the park for Spurs by any stretch of the imagination, their re-shuffled defence forced to work hard by the attack-minded visitors. Nevertheless, Spurs did have some good chances including a second minute header from Chris Metters after a Joe Andrews free-kick. Cameron Vere beat Matt Bojar in the 15th minute but his goal was ruled offside and the game remained level. Shortly after, Jamie Newberry headed off the line after Andrews, put through by Liam Jones, had beaten goalkeeper Dec Lines with his shot. A flurry of chances from headers then came and went, Metters with a miss for Spurs, Newberry heading over from a Tyler Wellman corner and Vere doing the same after winning a free header from Ben Farrington's corner. Spurs' George Dandridge had the last chance of the half, dribbling past two Vikings before firing wide.
After 45 minutes of fruitless effort from both sides, Spurs took the initiative just three minutes after the restart, Adam Dyson latching on to a good ball from Dandridge to finish into the top corner. In the 69th minute, Dyson doubled up for the hosts, meeting Andrews' cross with a far-post header from the middle of the box. Four minutes later, Sidmouth almost grabbed a lifeline when Farrington followed up on a long free-kick, fumbled by Bojar. But out came Metters to get his body in the way and prevent the goal. Four minutes after that, Bojar did well to save a decent turn and low shot from Nathan Antant who had come on for Newberry. Jake Chisholm almost found a way through for a third with ten minutes left but after cutting in from the right his shot was saved by the visiting 'keeper.
The win put Spurs top on their own for at least three days with Stoke Gabriel needing a win in their derby at Bovey Tracey to join them at the summit. The Railwaymen got off to the ideal start with a 7th minute opener before Gareth McEwan doubled up with 16 minutes gone. There was a moment of controversy next when visiting goalkeeper Scott Corderoy raced out and handled the ball outside of the area. Fortunately for him, the card was only yellow and the resultant free-kick, taken by Bushin, sailed harmlessly over his crossbar. Josh Webber then made a tough task even harder for Bovey as he picked up a one-two and beat Patchett to make it 3-0. Lewis Woodmore almost made it four in the 40th minute but after latching on to a long free-kick he fired wide. The Moorlanders made a better start to the second period but Jake Hatherly found the post instead of the back of the net with a 50th minute effort. Despite continuing to perform well, Bovey were unable to find a way back and even their consolation was denied them when Bushin skied a penalty.
Elsewhere, Galmpton United fought out a goalless draw at Budeligh Salterton while Liverton United succumbed to the only goal at home to Appledore,