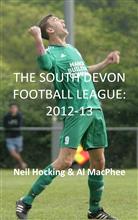 South Devon Football League 2012/13 Season Review Now Available
The South Devon Football League 2012/13 Season Review is now available to buy from www.feedaread.com for £7.99
If the above link doesn't work, please paste the following into your browser: https://www.feedaread.com/books/SOUTH-DEVON-FOOTBALL-LEAGUE-SEASON-REVIEW-9781784073459.aspx
This is a bookstore-quality paperback book featuring 212 pages of match reports, photographs and statistics, including:
A month-by-month illustrated review of the 2012/13 season divided into each of the seven divisions.
Dozens of high resolution black & white photographs featuring a wide range of clubs
Pages of statistics including league tables, top goalscorers, transfers and cup winners' lists
A round-by-round illustrated review of each of the nine SDFL cup competitions from the Herald Cup down to the Ivor Andrews Cup
A detailed and illustrated round-up of SDFL action in each of the three county cups
Contact details for every SDFL club competing in the 2013/14 season
This book should appeal to:
Players and their family members as a unique souvenir
Club members and officials
Grassroots football and SDFL enthusiasts
Football programme and souvenir collectors
Media professionals
Local area and amateur sports historians and archivists
This publication is only available through the feedaread website at £7.99. A contribution from each sale will go to the SDFL.
If the above links don't work, please paste the following into your browser: https://www.feedaread.com/books/SOUTH-DEVON-FOOTBALL-LEAGUE-SEASON-REVIEW-9781784073459.aspx
For any queries, please contact Neil Hocking (SDFL Press Officer) on nicneil9@gmail.com