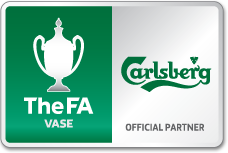 Sholing Bow Out After Buckland Late Show
It was a repeat of last season's FA Vase match-up but this time Buckland had to make the long trip to the Universal Stadium Southampton in an attempt to overcome the 2014 FA Vase winners.
Si Laughton had a good chance to open the scoring on 20 minutes, but his header was saved by Ryan Gosney in the home goal. Instead, it was on fire Charlie Johansen who broke the deadlock, five minutes before the break, with a shot across Gosney from just inside the area which hit the net inside his far post. That's how it stayed for some time in the second half, the hosts throwing everything at Buckland as the game reached its final 15 minutes. The teams had to battle through 30 minutes of extra-time and a penalty shoot-out last season and extra-time was certainly still on the cards ten minutes from the end, Grant Fisher pulling off a great save to keep the Yellows in front. Then came the huge pressure-relieving moment as Lloyd Gardner's ball was finished off by Richard Groves, just inside the area, with five minutes left. Every new footballing dad dreams of scoring a goal to celebrate their new child's birth and Si Revell did just that, finding the net with his first touch after coming on as substitute to add a personal high to the collective buzz of what was now a certain victory.
 Buckland will host Newport IW in next month's second round of the Buildbase FA Vase but, for now, it's back to the league and a home tie against defending champions Odd Down on Saturday.