SDFL 13th December 2014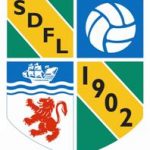 Watcombe Wanderers' run of nearly 70 games unbeaten came to an end on Saturday as last season's quadruple winners relinquished one of their trophies – the Throgmorton Devon Premier Cup.
The game started with a one minute's silence as a mark of respect for the father of player Stuart McManus who passed away on Friday evening.
The teams traded penalties in the first half, Nick Hayman converting after the referee awarded a foul against Stephen Woodcock, and Hayman also conceding a spot-kick, Royston Carrington scoring for Watcombe. Nine minutes after the restart, Matt Bryant saw red for deliberate handball on the line, Carrington stepping up to put the Greens ahead. Both sides defended well in a competitive half, and it looked as if the match would need extra-time after Carrington's rough challenge, seven minutes from time , gave Matt Beer the chance to level with a sweet free-kick which curled around the wall and evaded Scott Corderoy's fingertips. But Bucks had other ideas, and when Lewis Woodmore, in stoppage time, pushed down on his man in full view of Kevin Gidley, the referee had little option but to award a fourth penalty, Beer slotting home his second from the spot. As Corderoy charged upfield in a last desperate attack, Buckland swiftly reacted to slam the door shut, Gav Collins outpacing the Greens' defence before passing the ball into the unguarded net.
Buckland joint manager Neil Snell praised his side's commitment and desire to win for their achievement. "All the lads out there deserve credit," he said. "We've been brilliant all season and we come here and go 2-1 down but the way we came back was absolutely outstanding."
Watcombe joint manager Frankie Finch said he could take the defeat but was disappointed with some of the mistakes his side made.
---
Dartmouth AFC maintained their lead at the top of the Premier division with a 3-2 home win over fellow title contenders Upton Athletic. Liam McAuley scored twice for the home side and Josh Webber also found the net as Darts bounced back from their defeat at Waldon. Jon Davis and Si Hannaford scored the goals at Kingsteignton Athletic to ensure East Allington remain just a point off the leaders, while Stoke Gabriel Reserves hold on to third place despite being held 1-1 at home to Newton Abbot Spurs Reserves. The spoils were also shared at Erme Valley, Kingskerswell & Chelston's free-fall finally halted with a 1-1 draw against Ivybridge Town Reserves.
Bovey Tracey Reserves were disappointed with their first half performance at Loddiswell Athletic. The Moorlanders conceded three times before half-time to give them a mountain to climb after the break. But despite a much improved second period, the match ended 4-1 to the hosts. Watts Blake Bearne failed to fulfil another fixture, this time at home to Waldon Athletic, to deepen the crisis at Abbrook Park.
---
The big match in Division One went the hosts way, unbeaten Paignton Villa edging Newton Abbot 66 2-1 to jump three places and top the table. They were given a helping hand by Totnes & Dartington Reserves who pulled off possibly the surprise of the season in Division One with their 5-2 success at previously unbeaten Beesands Rovers. Top scorers Chudleigh Athletic made short work of Babbacombe Corinthians, scoring six without reply at Barton Downs; Athletic are now averaging more than four goals a game. Broadhempston United also know where the net is, but four goals at Headlands was not enough to prevent Stoke Gabriel Thirds leaving with the points, 5-4 the final score. Ipplepen Athletic followed up last week's first win with another, again away from home, beating Kingskersewell & Chelston Reservers 6-3. Things are starting to look desperate for bottom side Buckfastleigh Rangers as Teignmouth Reserves made good on recent performances to enjoy a 7-3 victory at Coombe Valley. The Teigns themselves needed to win games and got off to a good start with Jamie Bowen opening the scoring, a first goal of the season from Alan Stuckey making it 2-0. Alarm bells started to ring when the visitors pulled a goal back, but in-form Stevie Leyman scored his seventh goal in seven games to restore the two goal cushion. Andy Breslan and Tom Pilbro bossed the midfield in the second half and Stuckey notched two more to complete his hat-trick and make the score 5-1 to Teigns. Despite a powerful performance from Jason Saw at centre-half, the visitors scored two more goals but the plaudits must go to Stuckey who scored two more himself to take his tally to five and seven for Teigns.
---
In Division Two, Danny Harry took the plaudits with a hat-trick for leaders Buckland & Milber at home to Newton United. Josh Moore, Dan Steer and Kieran Joy added their names to the score sheet in a 6-1 win. Ashburton finally broke into the top three with six goals and a clean sheet in a home win over Hookhills United while Waldon Athletic Reserves came away from the Hams with the points after soundly beating Harbertonford 5-1. Paignton Saints are stealthily climbing the league, Josh Chase's strike the difference against Abbotskerswell, and Kingsteignton Athletic Reserves achieved a first triumph since their early winning run came to an end in October, overcoming South Brent 4-3 at Palstone Park. Totnes & Dartington Thirds are still the only SDFL side without a point after going down 3-0 at Brixham AFC Thirds.
---
The top two in Division Three pressed on with their promotion charge. Roselands swept Waldon Athletic Thirds aside 8-1, while winless South Brent Reserves crashed 4-1 at home to Watcombe Wanderers Reserves, Liam Strong (2), Simon Ross and Joshua Lowles with the goals. Luke Milton's goal for Salcombe Town proved consolation only, as Town lost out 4-1 to Bishopsteignton United who sit third. Upton Athletic Reserves picked up a decent three points with an 8-3 home win over Harbertonford Reserves, while an Ed Armirage hat-trick and singles from Rhys Morrallee, Robbie Chalk and Ben Greeno helped Dartmouth AFC Reserves to a resounding 6-0 victory at bottom side Ipplepen Athletic Reserves. Teign Village drew their third match from the last five with a 1-1 result at Chudleigh Athletic Reserves.
Chris Jebb scored the only goal at Poole Lane to send East Allington Reserves into the semi-finals of the Fred Hewings Cup at the expense of Division Four side Roselands Reserves. The Pirates will take on rivals Dartmouth Reserves.
---
In Division Four, AFC Staverton showed off their title credentials by beating Polonia Torbay 4-1 away, but Liverton United Reserves and Riviera United keep up the pressure. The Lillies slammed Paignton Villa Reserves 8-2 at Halford while United came through a closer affair 3-2 at Newton Abbot 66 Reserves. Buckfastleigh Rangers Reserves' seventh win came with seven goals against Babbacombe Corinthians Reserves who have yet to pick up a win. Dittisham United are still unbeaten but the home side couldn't overcome Torbay Police and the score ended one apiece. On-song James Howrihane and Lee Smith delivered two goals, a win and more good news for Meadowbrook Athletic who moved above visitors Ilsington Villa.
---
Division Five leaders Watcombe Wanderers Thirds started the second half of their season with a 4-2 win in their home six-pointer against Barton Athletic. Sam Pyne scored twice and Connor Finch and Harvey Hickman contributed goals for Watcombe, while Thomas and Lucas found the net for Athletic. But Watcombe's post-match celebrations were muted considering the first team's County Cup defeat a few yards away. "We're buzzing for the win and the boys did well and battled hard," said Watcombe's Taimak Wilson. "But I'm gutted about the firsts today."
"It was a poor result today, but we're still a strong side," said Barton manager Chesh Solecki. "They're going to slip up some more this season and we're going to slip up some more so it's just how we bounce back."
Moretonhampstead, who have parted company with manager Ted Locke, fell to a third away loss on the bounce, Kingsbridge & Kellaton United with a 6-0 win. Newton Rovers Reserves are now unbeaten in three, but were held 2-2 at home by Buckland & Milber Reserves, while Stoke Fleming & Strete secured an important win with the only goal at Newton United Reserves.