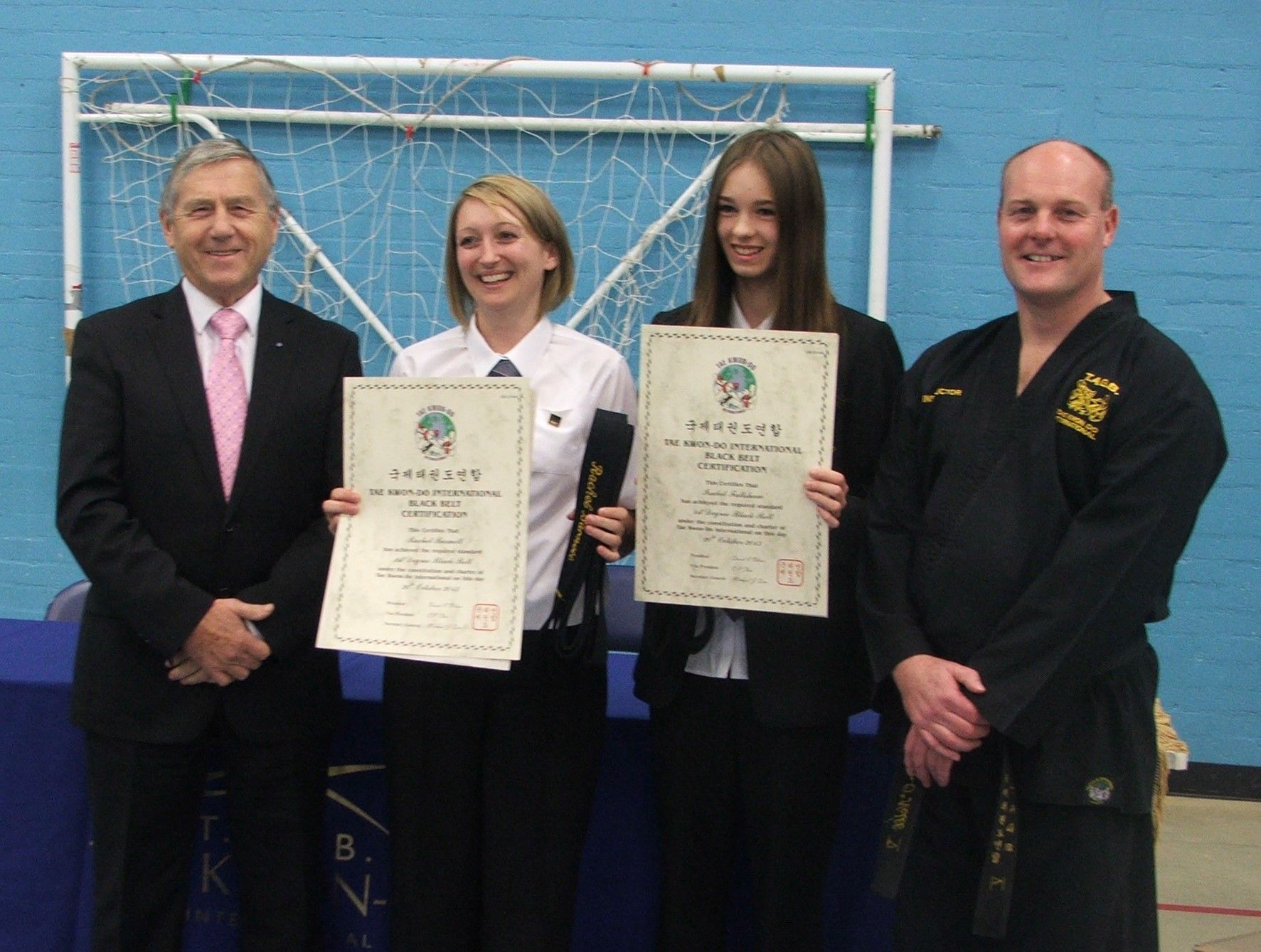 MartialArts4Fun Hit 100% Pass Rate
Last month's autumn grading for local Tae Kwon-Do School MartialArts4Fun brought great success. Over 60 students took part in the event at Newton Abbot Leisure Centre. The examiner was Master Michael Dew 8th Degree Black Belt (Vice Chairman of the T.A.G.B.), who travels down to Devon four times a year to assess the students in elements of the Tae Kwon-Do syllabus including Linework, Patterns and various Sparring techniques.
There was a 100% pass rate, so all students were able to collect brand new belts at their next lesson. The following people showed outstanding effort, determination and ability and were awarded an A pass and grading award: Giles Boon, Hannah Broughton and James Uzzell. Also taking home an A pass were Kevin, Hayley, Alice, Maia, Stephen, Jemma, Rozanna, Tasha and Chloe. Plus passes were gained by Kayleigh, Holly, Noah and Jack.
The grading ended with Master Dew presenting certificates and belts to two students who were successful at the recent black belt grading. Rachel Barnett and Izzy Fallshaw (pictured with Master Dew and Mr O'Neill) had both been training for over four years and proved that if you put your mind to something you can reach your goals. They will now join the other black belts of the school in assisting with teaching lower grade students in classes and officiating at competitions, as well as working towards their next dan grading. Well done to both.
Congratulations also go to the four members of MartialArts4Fun who graded in Honiton, especially to Ruth who was awarded an A pass and Poppy who took home a Plus pass.
Junior students from various MartialArts4Fun Schools around Teignbridge have also taken their stripe assessments. Some of the students taking their first assessment are as young as four years old! Their hard work in lessons showed through and they all successfully passed their assessments and moved on to the next level. Senior Instructor, Mr Peter O'Neill (5th Dan) said: "Well done to all of the students who took part in the autumn assessments. Your hard work in training has paid off, keep up the good work!"
Press Officer Karen Ball says: "Come along and join the largest Tae Kwon-Do Association in Europe. You'll gain confidence and useful self-defence skills, all whilst improving your fitness. MartialArts4Fun offers a fun family environment where adults learn alongside the children, with lessons taking place every day of the week across Teignbridge."
If you would like more information about free trial lessons please contact Mr O'Neill on 07718 750390 or by email: peter@martialarts4fun.co.uk.