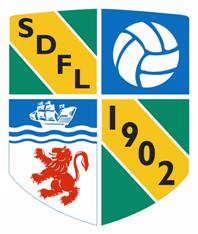 Magic Micklewright Runs Riot for Upton
East Allington United and Dartmouth AFC strengthened their position at the top of the South Devon Football League Premier Division with home wins on Saturday.
The Pirates are still yet to drop a point after putting five past Stoke Gabriel Reserves. Si Hannaford put four away with Tom Harvey also on target as opposition manager James Hannaford admitted his side were well-beaten.
Dan Broadway, Dan Griffiths and Karl Baker scored Darts' goals in a 3-1 victory over Newton Abbot Spurs, Andy Eden finding the net for Spurs.
But the headlines have to go to Jamie Micklewright of Upton Athletic who scored seven as Upton Athletic destroyed Kingskerswell & Chelston 11-0 at Barton Cricket Club, Andrew Walker (2), Lee Chamberlain and Ryan Little also scoring goals. The result was the sixth successive win for Upton who move third.
Waldon Athletic lost their first match since October, going down 3-1 to Ivybridge Town Reserves.
Gav Collins managed a hat-trick for Buckland Athletic Reserves who won 8-1 away at local rivals Kingsteignton Athletic to continue their perfect start; Chapman, Hammon, Sneap, Seatherton and Crook completed the octet.
---
In Division One, Beesands Rovers won a home six-pointer over second placed Newton Abbot 66 5-1 to go three points clear; Lee Morgan added another two to his tally, while Guy Watson, Jon Burt and Danny Tucker also scored. Paignton Villa join the Bees as the only sides yet to lose with a 3-1 triumph at Stoke Gabriel Thirds, Des Bridgeman with the Railwaymen's only strike. Broadhempston United used their Friday Night Football tie agaist Brixham AFC Reserves to end their poor run with a 3-1 victory. Totnes & Dartington Reserves enjoyed their biggest win of the season, at home to Ipplepen Athletic, while Babbacombe Corinthians got back to winning ways, beating Buckfastleigh Rangers 6-3, Dan Lawton and Max Corderoy with two apiece; Jay Essam and Josh Haycox bagged singles. Rangers' goals were supplied by Steve Saunders, Dave Poyser and Steve Addison.
---
In Division Two, braces for Josh Moore and Dan Steer, together with a single from Lee Lewis, at home to South Brent ensured Buckland & Milber continue to fend of the title challenge from Brixham Town. Liam Halliday, Jamie Swindells and Alex McKerral were on target for Town who came back twice to claim victory at Waldon Athletic Reserves. Ashburton extended their 100 per cent record with a narrow home win over Kingsteignton Athletic Reserves, completing the top three; Scott (2) and Winter made the score-sheet for Ashburton. Brixham AFC Thirds won for the second week running with a 4-1 result at home to Newton United, although United's Chris Harper found the net again.
---
Their first team's postponement at Bovey Tracey was a blessing in disguise for Watcombe Wanderers Reserves who were able to field a strong side against previously unbeaten Division Three leaders Roselands. Pete Summerfield (2) and Sean Finch were among the goals in a 5-1 win for the Greens, with Liam Strong and Thomas Harris rounding off the scorers. East Allington United Reserves came away from Ipplepen Athletic Reserves with the points while Salcombe Town and Teign Village shared four goals at The Berry, Luke Milton and Nick Bonnet on the mark for Town. Upton Athletic Reserves were unable to raise a side for their trip to Chudleigh Athletic Reserves.
---
If there were a goal of the season competition in the SDFL, then AFC Staverton's Lee Clarke would be a contender with an amazing second goal that left even home side Newton Abbot 66 Reserves applauding. Clarke rounded five players plus the goalkeeper before slotting home for the leaders who came away from Osborne Park with a 5-2 victory. Dittisham United's 3-0 win over Meadowbrook Athletic moves them second, Kirby, Fisher and Bruckner with the home side's goals, while Liverton United Reserves round off the top three following a 6-3 home triumph over rivals Ilsington Villa. Riviera United slipped to a narrow home defeat against Preston South End, while Torbay Police made it consecutive away points with a 2-2 draw at Polonia Torbay. Roselands Reserves continue to improve with a second home win on the bounce, Whitelegg's goal the only consolation for Corries Reserves who went down 4-1 at Paignton College. Newton Rovers ended their losing run with a point at Paignton Villa Reserves.
---
In Division Five, leaders Watcombe Wanderers Thirds claimed another three points, winning 4-1 at home to Buckland & Milber Reserves. Connor Finch put two away, with goals also provided by Kenneth Nixon and Sam Pyne. Cory Brennan netted the visitors' consolation. Anthony Jones scored twice to help Barton Athletic move second, the home side enjoying a 6-3 victory over Moretonhampstead. Neil Thomas, Graham Collins, Nick Ashby Pearce and Frankie Rooney also added their names to the score-sheet for Barton, while Rui de Garces and Darren Siwiec struck for the visitors. Ashburton Reserves reached double figures for the first time this season, humbling Newton United Reserves 10-1 away, Swann with the home side's sole strike. Malborough United dug out their first clean sheet and biggest win of the campaign with six goals scored at Broadhempston United Reserves. Bottom side Paignton Saints Reserves got off the mark in convincing fashion, beating Stoke Fleming & Strete 7-1.