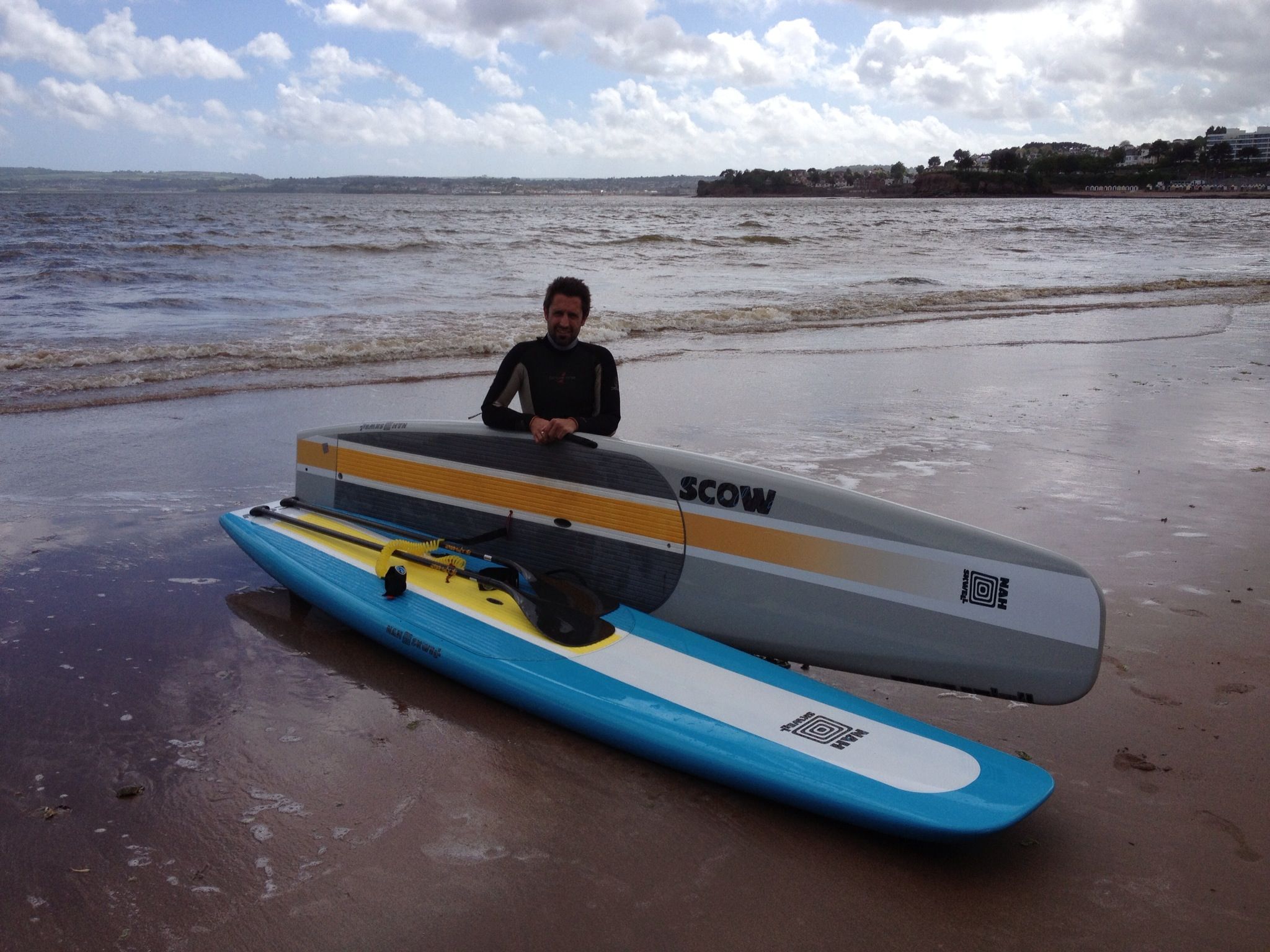 Issue 14 Special: Source to City: A Paddleboard Marathon (22nd-29th Sep)
It's only FOUR DAYS before intrepid SUPers Phil Sanders and Ollie Denton take on the mighty Thames in their Source to City challenge, as featured in our latest magazine (Issue 14, out now).
Phil took me out for a paddle and then explained what it was all about:
Sport South Devon: What inspired you to take on the challenge?
Phil Sanders: It all came from pub talk really. Ollie and I were talking about paddling and wanting to do something adventurous and different. He made a few suggestions and we came up with the Thames because he lives near the Thames and it's probably the biggest thing we could do in the country. Ollie trains in the canals around Reading, and I do all my training coastal or on the Exeter canal. We get together occasionally for training but the next time we'll probably meet is on the event.
SSD: How did you get involved with paddleboarding?
PS: I've always surfed for as long as I can remember. As a typical local boy getting frustrated with the lack of surf, I noticed it on YouTube and thought I fancy a go at that so I went straight out and bought a second-hand board and taught myself. Now, two-and-a-half years down the line I'm qualified to instruct. You can paddle in any weather; that's the appeal to me. You can surf, you can cruise, you can expedition.
You can paddle in any weather; that's the appeal to me. You can surf, you can cruise, you can expedition.
Today is a little bit lumpy; last night it was like a duckpond. It's a great workout because every time you paddle –
as you'll find out tomorrow (laughs) – you're keeping yourself fit, so it has a dual purpose.
SSD: What is your training regime leading up to the big event?
PS: I swim a lot and paddle a lot, so it's a lot of upper body. I do spend a lot of time at home on a balance board just to get the stamina into my legs. To stand up on something that's moving for six hours is something that's hard to train for. We're (at the time of interview) inside two months so everything needs to step up now and I need to start running more. I probably won't be home much; the only way to train is to spend hours on the board and get out and paddle.
SSD: Have you got a fundraising target?
PS: No, we didn't set ourselves a target because we didn't want to get upset if we didn't reach it, but I think we would like to raise £1,000 each. It's not a massive figure but it's a nice figure to reach. I'm sure that will come in as soon as soon as we start getting more media coverage.
SSD: What's the most challenging aspect?
PS: It's going to be probably day five or six, when we're both going to be very tired, and it's going to be a tidal Thames with traffic on the Thames at that point. That, and we've got something in the region of seventy or eighty locks to get round in the first three days. So not only are we paddling but we have to get out, carry the boards round the lock and get back in, so that could be tedious, but luckily the boards are quite light. And if Ollie doesn't wind me up; getting on with him for seven days could be difficult (laughs).
People look at us and think 'what are they doing? Is that just a big surfboard or is their rowing boat broken?
SSD: Does the infamous Thames water put you off at all?
PS: You're not the only one to mention that because David Walliams was really sick, wasn't he? All I can say is I hope I don't fall in. If I do too much swimming, I probably will be ill.
SSD: More generally, what's the paddle scene like in the South West?
PS: It's bigger than you think. There's a group of 10 or 15 paddlers and we all give each other the nod if we see each other out. You find more as you head towards Cornwall but it normally stems from the lack of surf. We still get funny looks, though. On the Exeter canal people take lots of picture. People look at us and think 'what are they doing? Is that just a big surfboard or is their rowing boat broken?'
The Nah-Skwell boards provided to Phil and Ollie cost in the region of £1400 each, so we asked how affordable the sport is for the beginner:
PS: Second-hand is always the best way to go. There are a lot of cheaper ones on the market because these are quite specialist. Normally they are sold in a package of board, paddle and leash for £400 to £500, but there are loads of websites. Ebay is probably the best place to pick up a second hand board for £200 to £300 and you could be out paddling the next day.
SSD: Are there any paddleboard competitions?
PS: There's a good one on the Dart called the 'Head of the Dart' that happens every year (this year it was on 20th April). There has just been a couple in Weymouth and Bournemouth, and they're normally distance races: 5k, 10k depending on age group and skill level. There is a very big SUP scene that follows the (ASP) Surf Tour, but it's always Australia, American and Hawaii. Those guys will be sponsored and featured in magazines.
SSD: Do you have any anecdotes that jump to mind?
PS: The scariest moment would have been around Thatcher Rock a few weeks ago when there must have been a million jellyfish – that keeps you on your board.
I've also been pulled over by the Harbour Master. It was like being pulled over on the road. He said, "where's your lifejacket?" I said, "I don't need to wear one because I wear a leash." He said, "what if you hit your head on the board?" I said, "then I would need a proper yachting lifejacket – and they fire when they get wet." So then he had run out of questions, and basically told me to get out of the harbour.
Just get on the Facebook page and support us. The more support the better!
We've been followed by the seal a couple of times – but no dolphins yet; I'm dying to see them.
SSD: Anything else you would like to say?
PS: Just get on the Facebook page and support us and share the information about. The more support the better!
And just for the record, despite it having been a while since I had stood on anything resembling a paddleboard, I was pleased to have managed to get to my feet and pretty much stay on the board throughout…pretty much.
"You only fell in because you hit a rock – so we could scratch that out," laughed Phil.
Thanks Phil; I appreciate it!