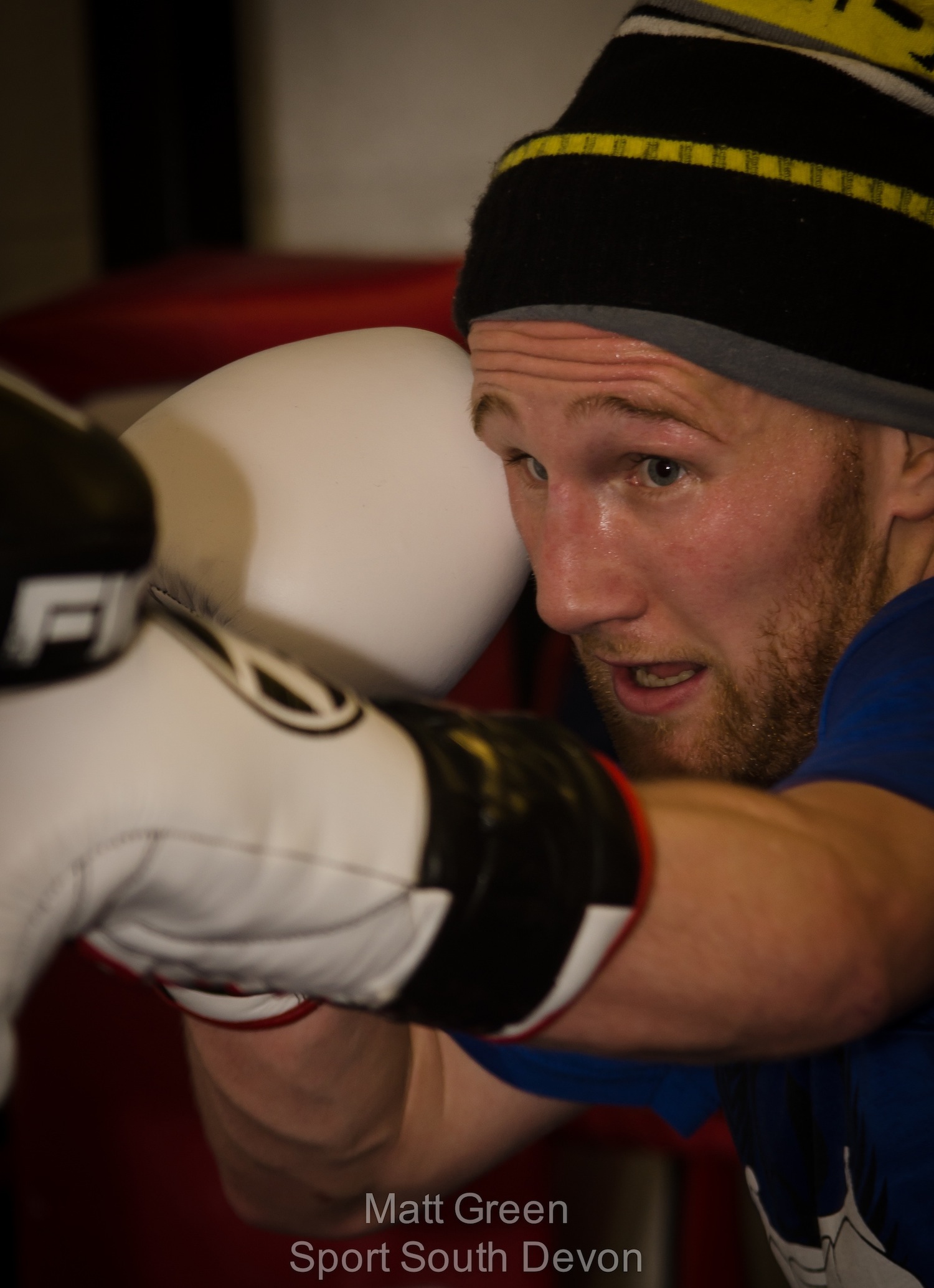 "I Will Be a World Champion!": Jamie Out to Set the Record Straight
In less than a month, Kingsteignton boxer Jamie Speight could finally fulfil an ambition he's held since a child – to be a World Champion. On 19th April, in a big night of WBU boxing in Poole, Dorset, no fewer than five world title belts are up for grabs, including the WBU World Super Bantamweight belt that Jamie has his sights fixed upon. Former coach Graham Hogg, also from Kingsteignton, will be competing for the World Light Heavyweight belt that same evening against Ibrahim Labaran, from Accra in Ghana.
To reach his goal, Jamie will not only have to overcome opponent Michael Barnor, who is also from Accra, he will have to overturn a recent four fight losing streak that has seen him without a win since March 2012.
But Jamie is adamant that this run is not reflective of his ability, and is determined to set the record straight once and for all by winning a title once held by the likes of Ricky Hatton and George Foreman.
"Against Lewis Pettitt it was absolute daylight robbery – I said to him, 'you honestly don't think you beat me there do you?" – Jamie Speight
"A lot of the decisions have gone the way of the home fighter. I've had to travel to box because Devon isn't thriving for professional boxing," Jamie explains. "I haven't had a chance to be promoted and looked after like many other prospects around the country. So I've had to end up fighting top prospects in their own back yards, such as Josh Warrington."
Warrington, current holder of the Commonwealth featherweight title, defeated Speight a year ago, in his hometown of Leeds, to retain his BBBofC English featherweight title. Jamie now trains with Josh, and is currently being coached by Josh's father, Sean O'Hagan.
Despite going down to a unanimous decision in that contest, Speight's resilience won him much praise. But Jamie's hard work under the wing of then-coach Gareth Hogg was undermined on the big night, as Speight explained:
"I gave Josh the hardest fight he's ever had and it was very close. But I didn't perform to my best because Gareth didn't turn up so I had no cornerman.
"I'd spent ten weeks with him, we'd done all our game plan and padwork, and Gareth just didn't turn up on the night, so I had no coach. I went from putting my hundred per cent trust in him to him not being there. I had no-one to warm me up, no pad man, no cornerman; all the tactics went out the window."People who don't understand boxing don't see that I've lost some really narrow and, in my opinion, controversial decisions. I can reel off the top of my head those fights that I lost fair and square.
"I've had a couple of bad injuries in my career which have really hindered me and the rest have been bad decisions.
"Against Lewis Pettitt it was absolute daylight robbery. I boxed him in London and after the fight I had his supporters come up to me and say 'you had that; sorry about that result.' Lewis just hung his head, he didn't look like he had just won a title. I went into the changing rooms after and it didn't look like he had just won a Southern Area title. He had his head down, his dad was taking his gloves off and I said to him, 'you honestly don't think you beat me there do you?' He looked up and down, didn't know what to say.
"Jon Fernandes is another one. Got his head punched in for a good six or seven of the rounds in his own back garden, and his reaction to the decision absolutely shouted volumes.
"When that bell goes and the crowd genuinely believe their home fighter's won, there's uproar. When that final bell rang against Fernandes, you could have heard a pin drop in there. You could just hear my ten or twelve mates in the corner, not one Southampton supporter because they knew their boy had been beat. Then they give the decision, he gets it by one point and there's uproar and he drops to his knees in hysterics."
 "I genuinely believe I have the ability to be a world champion, and I will be a world champion." – Jamie Speight
"Against Kevin Hooper (see video on the right) I completely severed the spring ligament in the arch of my foot in Round Two; against Ben Jones I partially dislocated my hip from a body shot in Round Four. I got caught on it on Round Six, he pinned me on the ropes, he hit me on it a couple of times and my body just gave way. I was two rounds up on the cards at the time, so I was winning that."
As for Jamie's first defeat, against Nigel Wright on Merseyside in 2011, Jamie said:
"I basically shouldn't have been in the ring with him. He'd had 30 professional contests, been pro twelve years and had boxed for the British and Commonwealth titles three times and I had only had eight fights. I was a 21-year old lad, young and hungry and out of shape, having only had ten days notice. But at that stage of my career, having had eight wins, In my head I couldn't be beat."
A far wiser head now sits on those shoulders, and Speight is looking forward to a dramatic return to winning ways. He is well into preparation for his April showdown, and explained his training regime:
"I do everything right and have trained like a champion for the last two years. I put 100 per cent into everything I do, I diet right and when I step into the ring I know what I'm capable of.
"I'm up most mornings early, normally between six and seven, and I'm out on the roads to get my runs in. They vary from a third-mile speed run, for fitness, to ten or twelve miles steady for a fat burn. In the evening I'm either in the gym doing pads, bags or strength work, or I will do an alternate run to that I've done in the morning. So sometimes I do two runs in a day. I have one day of rest."
To ensure he is in optimal condition for the big day, Jamie will only bring his weight down to super bantamweight (122 pounds/55kg) a few days before.
"My coach likes to keep me five or six pounds above," said Jamie. "If you're right down on the weight three or four weeks before it can start to drain the body."
Despite having been on the cards for some time, Speight admits that Ghanaian Barnor is something of an unknown quantity.
"We have had absolutely no footage of Michael Barnor whatsoever. The most we've got to work from is his record.
"He's knocked out a fair few but that's not something that bothers me. I've had hard fights with people who can punch, and I spar with heavier lads so I know full well I can take a shot. If you have to go into the trenches and have a war then I know that I am more than capable.
I've got a couple of still images and from that I've been able to work out he's a southpaw (leads with the right hand and foot). Normally he's lighter. He has boxed at bantamweight, which is eight stone six, so he will make the eight ten limit comfortably."
"I'm quite shocked at how people have just lost interest. People who say they are my friends…but they're not willing to support you." – Jamie Speight
Speight is hoping that he can amass some decent support for the short trip to Dorset, but took a swipe at those who have drifted away:
"Remember when people used to talk about football 'glory supporters?' They would support whoever was top of the league.
"When I boxed for my first title, in Torquay at the Riviera Centre, I sold over 300 tickets on my own. At the time I was undefeated, seven-and-oh was my record and because I didn't have a loss I was top of the league. Because of the glory supporters, everybody was behind me.
"I'm quite shocked at how people have just lost interest. People who say they are my friends, when I see them out and about,they say, 'alright mate, how's it going?' but they're not willing to support you."
Former coach Gareth Hogg will also be boxing on the night and, despite the Leeds incident, the pair are still on friendly terms:
"Yes, we get on," Speight confirmed. "We're doing it for very different reasons. Gareth has taken this fight because he wants to see what he's got left. In his prime, he had the ability to be a world champion but never did what he quite could have.
"He's come from six years of inactivity to taking on a twelve-round title fight so fair play to him. He's had to drop three stone as well, which has taken its toll on the body.
"Ever since I was a kid I've said that I will be a world champion. People think the road to success is a straight road; it isn't. You're bound to get snags, you're going to fall, there's going to be times when you're going to have to dig deep and get back up, which I've done.
"Now I've been handed the opportunity where I'm going to be the home fighter for the first time in three years. I'm boxing for the very same title that Ricky Hatton held, which is a massive accolade in itself. Even the likes of George Foreman, Joe Bugner and Micky Ward have been WBU World Champions and I'm fighting for that very same belt.
"In the boxing game, it's a very big event and I'm looking forward to being Devon's first World Champion. I intend to win the world title and prove my doubters wrong.
"To me, it will be a dream fulfilled, but the dream won't stop there. I intend to defend it and go further. I genuinely believe I have the ability to be a world champion, and I will be a world champion."
---
Read more about the two fighters' records here: (JAMIE SPEIGHT – MICHAEL BARNOR) 
Jamie will be keeping Sport South Devon updated as the big night arrives, but until then you can follow him on Twitter, Facebook or Instagram.
"Now and again I see people out and about and they write on Facebook, 'good to see Jamie Speight out running; good luck for your title fight," Jamie said. "It's nice to have people contact you on Twitter and Facebook, and it would be absolutely fantastic to have a good crowd up there to support a proud Devonian who wants to bring this title home."
To support him on the night, tickets can be purchased from Eventbrite.