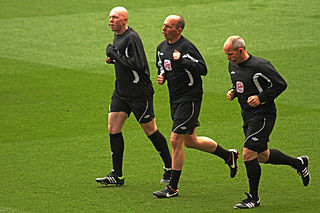 Free Kit and Accessories on Offer for Budding New Local Refs
In an attempt to get more experienced football people into refereeing, the South Devon Football League has linked up with Devon FA to provide a basic referees' course for anyone associated with one of their clubs.
The usual cost is £150, but for anyone associated – now or in the past – with an SDFL club, Devon FA will only charge £100. This includes all of the course material plus a FULL NIKE REFEREES KIT AND ACCESSORIES.
In addition, once a successful candidate has refereed 10 SDFL matches, the League will refund £25 off the cost of the course, reducing the net cost of the course to £75.
Referees who meet the criteria will be offered free membership of the South Devon branch of the Referees' Association (RA) for the first year, worth £21.
The course will be held at Paignton Community and Sports Academy in August. Full details can be found at www.devonfa.com/referee/become-a-referee
Anyone interested should contact Jason Haywood, Referee Development Officer for the Devon FA on 01626 325917 or 07772 953003, by Monday 28th July
Referees' image released via CC-by-2.0 Licence. Author: Ronnie Macdonald