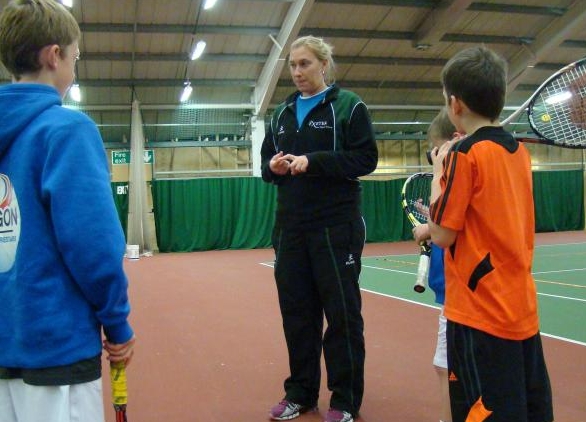 Charlotte Reflects PLUS Tennis Taster Parties for Girls
Exeter Tennis Centre Performance Manager Charlotte Wallace has returned from her week long trip to Argentina having joined the Great Britain Women's tennis coaching squad for the World Group II Qualifier of the Fed Cup.
The opportunity to travel with the team came as part of Fed Cup captain, and mother of world number two, Judy Murray's campaign to improve coaching opportunities for women in the UK. Charlotte was invited as one of only four coaches from across the country in recognition of her efforts to train and coach young performance players in the South West.
Reflecting on her experience, Charlotte commented: "It was a brilliant learning experience for me. We worked very closely with Judy who spent a lot of time with us. We were able to watch the girls training and offer support to the team. We had several meetings where the visiting coaches were able to put forward their ideas as well as opportunities to meet the Argentinean captain to talk about her team".
The squad, made up of British number one Laura Robson, Johanna Konta, Anne Keothavong and Elena Baltacha were competing for a place in the Fed Cup's World Group II in 2014. Unfortunately, despite playing some exceptional tennis, the team were unable to overcome the hot conditions, the slow clay and a raucous home crowd, losing out 3-1 to the Argentinians.
Charlotte said: "It was a shame not to come away with a better result but it was still a brilliant experience. The conditions were difficult with the heat and an away crowd but we just tried to focus on the event and do our best. All of the girls get on incredibly well and it is good that there is such a strong relationship there. Judy is an inspirational leader, with an insatiable passion for tennis. She has a brilliant connection with the girls; that kind of support is very important in such a high-pressure environment."
Charlotte's selection adds to an already impressive list of accolades, which have included training a number of national level junior players in Exeter, many of whom have been recently awarded Matrix funding by the Lawn Tennis Association. The funding comes after an incredibly successful winter season which saw Mini Orange players (nine and under) Emily Syms, Louis Davey and Daniel Mountford all finishing in the top five national rankings.
Additionally Matthew Rutter and Louis Skupien, who also received the funding, have been specially selected to perform a demonstration at the world famous Wimbledon in July and Charlotte is hopeful that her international experience will help progress her players further.
She finished: "The purpose of the trip was to absorb as much as possible and I have learned a lot about implementing different training strategies and new ways to support aspiring athletes. It has also been brilliant to travel with coaches from different centres to build relationships and share ideas – it has been a really positive experience for me and I look forward to using it to help benefit my players in Exeter."
If you have a daughter who is interested in tennis, you might be interested to know that the third and final Exeter Uni/Devon LTA tennis party is on 6th July at Riverside Leisure Centre.For further information please contact Steve Ashton on 07835 041 719 or emailsteve@exwicktennisclub.co.uk. Please mention Sport South Devon.