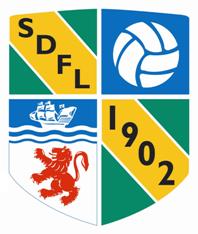 Buckland Go Top; Cup Success for Darts and Watcombe – Local Football Round-Up Part 3/3
Two more SDFL trophies found new homes last week with Dartmouth Reserves winning last Friday night's Ronald Cup at Bovey Tracey FC and Watcombe Wanderers Reserves storming to victory in the Fred Hewing Cup, played at Torquay United FC on Bank Holiday Monday. Meanwhile, Buckland Athletic Reserves moved top of the Premier League with a midweek win over Kingskerswell & Chelston.
Friday evening's Ronald Cup (Division Three) final pitted title favourites Dartmouth AFC Reserves against Liverton United Reserves, themselves in with an outside shot of the division. Liverton won the Division Four double last season and took the lead in this one with a goal after 15 minutes. But Cameron Webb found the net just before half-time and then Kev Causley put the Darts ahead five minutes after the break. Joe Kirby's strike, with 65 minutes played, finished the job although Scott McRoy's two yellow cards meant the victors finished the game a man light.
Watcombe Wanderers Reserves, who also play Roselands in tomorrow's Lidstone Cup final, secured their first silverware with an emphatic 6-1 victory over Harbertonford Reserves in the Fred Hewings (reserves) Cup final held at Plainmoor.
Buckland Athletic Reserves took another few steps towards retaining their Premier title although they will be unable to go up due to the first team's failed promotion bid. Bucks go into the weekend on top after overcoming Kingskerswell and Chelston on Tuesday night with Charlie Johansen scoring a second half hat-trick after Johns and Micklewright had sent the sides in level at the break. Buckland were held 1-1 by East Allington United last Saturday to keep things interesting, a result which allowed Watcombe to temporarily climb back to the top with a narrow 2-1 home win over Loddiswell Athletic. The hosts' goals came from an Owen Stockton penalty and an Ashley Dewdney strike, with Lodds' goal supplied by their goalkeeper, direct from a free-kick. With only two games remaining, Watcombe will surely need to win them both to have any hope of the title with third place Dartmouth AFC well capable of finishing as champs – their last two matches will be against Buckland and Watcombe. Darts were without a game on Saturday but, just as he had done a week earlier, Danny Rushe scored the only goal against Ivybridge Town Reserves on Wednesday evening for Darts' fifth win on the bounce. At the other end, Stoke Gabriel Reserves are all but mathematically relegated after Tuesday night's 5-4 reverse at Newton Abbot Spurs Reserves, Andy Eden and Tom Barrett with braces and Jake Elms with the remainder. Waldon Athletic got back to winning ways with a 3-0 away victory over Brixham AFC Reserves followed by Tuesday's 2-1 home win over Upton Athletic who also lost out 6-3 at home to Kingsteignton Athletic on Saturday, the Rams going up to sixth.
The Division One title is a four way battle between leaders and defending champions Buckland Athletic Thirds, Ashburton, Newton Abbot '66 and Ipplepen Athletic. All four achieved away wins last Saturday with Buckland scoring five without reply at Babbacombe Corinthians; Ashes winning 4-2 at Paignton Villa; Newton '66 beating Buckland and Milber 5-2 and Pens with a 4-1 victory at Beesands Rovers. Buckland dropped points on Thursday night though, held 1-1 at Stoke Gabriel Thirds who look certain to drop down due to the impending relegation of the reserves; Stoke also lost 4-0 at Tots Reserves on Saturday. Ipplepen Athletic were in action on Thursday, a 1-0 home win over Ashburton increasing their promotion chances, while Newton Abbot '66 celebrated a 4-1 away win at Bovey Tracey Reserves on Bank Holiday Monday to keep up the pressure. Chudleigh Athletic's 2-0 win at Kingskerswell and Chelston would normally have meant relegation for the hosts, but they may end up spared due to the Stoke situation.
In Division Two, Harbertonford threw the title race wide open with the result of the day last Saturday – a 4-0 victory at leaders Roselands. The Paignton side's lead has now been cut to six points by Watcombe Wanderers Reserves who added two high-scoring league wins to their cup triumph. The Greens won 10-1 away at Paignton Saints on Saturday before walloping Buckfastleigh Rangers 11-0 on Thursday with Sam Pyne, Sean Finch and Simon Ross claiming doubles and Rui de Garces, Liam Northcott, Shane Ross, Owen Stockton and Pete Summerfield also scoring. The result diluted the effect of Rangers' 5-2 home success against Bishopsteignton United on Saturday which had lifted them up to second for a while. In the relegation dogfight, Waldon Athletic Reserves earned another vital point with a 2-2 draw against Hookhills United who had done them a favour by beating Abbotskerswell on Saturday. The Clarets were also beaten on that day though – 2-1 by visiting Brixham Town. Elsewhere, Teignmouth Reserves lost for consecutive matches, edged out 3-2 at Kingsteignton Athletic Reserves before failing to raise a side for Thursday's evening match at Paignton Saints.
It's as you were in Division Three, although leaders Salcombe Town only have two more games to play before they almost inevitably will have to concede top spot to a Dartmouth Reserves side who have won the last 17 matches in all competitions. Darts hammered Waldon Athletic Thirds 6-0 on Tuesday night with Cameron Webb scoring twice, Robbie Chalk, Ian Armitage and Nick Rushe firing singles and James Lee notching another penalty. Salcombe Town maintain their six point gap for now after consecutive away wins against Ipplepen Athletic Reserves and East Allington United Reserves. AFC Staverton complete the top three after their 5-2 triumph at Dittisham United, Liverton Reserves two points behind them after Buckfastleigh Rangers Reserves failed to raise a side for Wednesday evening's trip. Harbertonford remain fifth after a 5-1 win over Upton Athletic Reserves on Saturday with Torbay Police, who drew 3-3 at Ipplepen on Monday, completing the top six. Dittisham can no longer finish outside the bottom two so are likely to be relegated with Waldon Thirds rapidly running out of time too. The Clarets were not helped by failing to raise a side for Saturday's match at fellow strugglers Buckfastleigh. Teign Village could do with a win to make sure of safety after they drew 1-1 at East Allington Reserves on Saturday before losing 3-2 at home to Chudleigh Reserves on Wednesday night.
Watcombe Wanderers Thirds moved to within a point of Division Four leaders Roselands Reserves with a 3-2 victory that ends Meadowbrook Athletic's recent string of wins; the Greens went top for a short while as they slammed bottom side Ilsington Villa 6-0 away on Tuesday, Connor Finch with four and Stephen Rohan with two, but Roselands were back at the summit on Wednesday night with a 3-1 victory over fading Riviera United's whose title bid was also dealt a blow by Ilsington who held them to a 2-2 draw at Lewthorne Cross on Saturday. Barton Athletic can finish no higher than third; they were held 3-3 at Newton Abbot '66 Reserves on Tuesday after hammering Kingsbridge and Kellaton United 6-0 on Saturday. The result was enough to move them above Broadmeadow who had narrowly won 2-1 at Newton '66 on Saturday. After their home walkover against Torquay Town, Ashburton Reserves moved to within a point of Meadowbrook with a 3-1 away win on Wednesday night; Ashes have two matches in which to bag a top six finish. Consecutive wins secured Paignton Villa Reserves their Division Four status, they won 4-2 at relegation-haunted Babbacombe Corinthians Reserves before beating Torquay Town 1-0 on Wednesday. Carries also lost out 4-1 at home to Newton Rovers on Tuesday; Rovers could still do with a couple more points to ease any lingering fears.
Torbay Police Reserves maintained their three point advantage while knocking Riviera United Reserves out of the title race last Saturday, 7-2 the score from Whiterock. Broadhempston United Reserves kept up the pressure with a 4-1 win over Buckland and Milber Reserves who responded with a 6-2 result at home to Newton United Reserves on Wednesday. That result lifted them above Moretonhampstead into third although Moretonhampstead are still very much in the title hunt after their 8-1 win over Newton Rovers Reserves on the weekend. Stoke Fleming and Strete moved above Barton Athletic Reserves who couldn't raise a side. Finally, Malborough United, who earned a point at home to Paignton Saints Reserves but then crashed 6-1 at Watts, Blake and Bearne AFC, could settle the wooden spoon on Saturday if they can beat bottom side Chudleigh Athletic Thirds who lost 4-0 at Newton United Reserves last week.