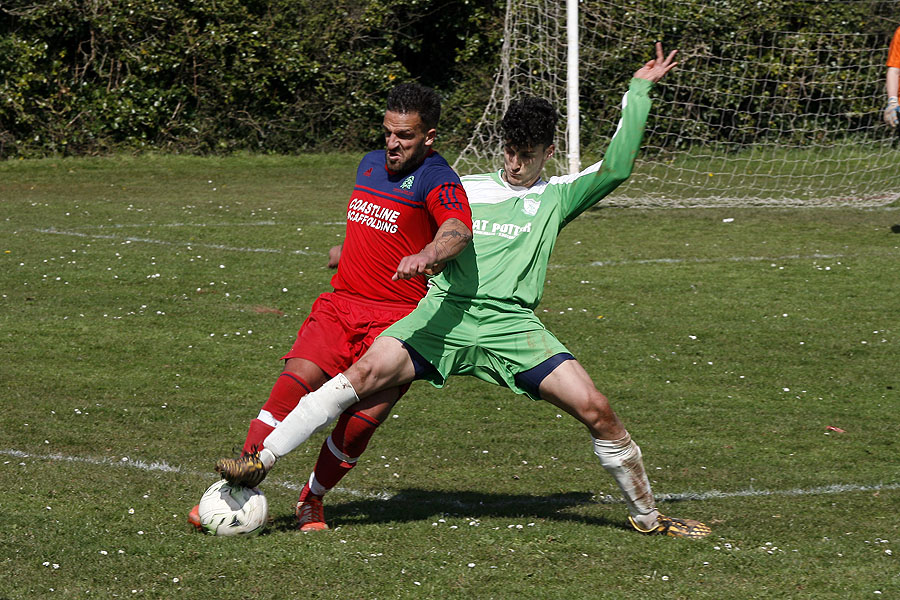 Buckland Close in on SDFL Title – Local Football Round-Up Part 2/2
Picture (c) MiraclePR
Three wins in five days have lifted Buckland Athletic Reserves to the top of the SDFL Premier and put them in the ideal position to beat off challengers Watcombe Wanderers and Dartmouth AFC and retain their crown.
Bucks racked up their fourth straight league win on Saturday afternoon away at rivals Newton Abbot Spurs Reserves, with Spurs managing duo Matt Barrett and Jim Eustice also announcing their decision to stand down at the end of the season. Jamie Micklewright hit a hat-trick for Bucks and Nick Hayman also scored with Josh Brassington claiming Spurs' consolation. A key clash with table-topping Watcombe was next on the cards, at Homers Heath on Tuesday evening, with Buckland racing into a 3-1 half-time lead courtesy of Micklewright, Gav Collins and Lee Chapman. The second half ended goalless and Buckland moved to within two points of the Greens with bottom side Stoke Gabriel Reserves the next side to visit, two day's later. Lee Chapman struck a 14th minute goal to put the hosts one up, but Stoke equalised four minutes later before getting their noses in front a minute before half-time. Mike Turner found the net one minute after the restart to level the tie before nicking the points with his second on 63 minutes. Watcombe had secured their 15th win of the season on Saturday, winning 6-2 against local rivals Kingskerswell & Chelston, Sean Finch with two and Curtis Booth, Cieran Bridger, Ashley Dewdney and Owen Stockton with the remainder. Dartmouth AFC are third with three games in hand after picking up their third and fourth wins on the spin. Following their 7-0 humbling of Watcombe, Darts were on top form again on Saturday as they scored six at Windmill Hill against Herald Cup winners Waldon Athletic, despite missing top striker Karl Baker through suspension. The Waldon defence simply couldn't handle new arrival Dan Rankin who scored four times in a fast-paced, competitive match, full-back Freddie Smith and Ben Greeno with the other goals. Waldon played better than the scoreline suggests though with Zak Gleason scoring a thunderbolt as the Clarets tried in vain to get back into the match. Darts' next match was a much tighter affair, Danny Rushe with the only goal at Erme Park against South Hams rivals Ivybridge Town Reserves. East Allington United look set for a fourth-place finish after they picked up two home wins, beating Stoke Reserves 2-1 on Saturday through Si Hannaford and Tom Rowdon and condemning Waldon Athletic to a third straight defeat thanks to a James Ivatts hat-trick, Chris Harrity with the Clarets' consolation. Two day's prior to that Thursday evening setback, Waldon had also suffered a 1-0 reverse at Upton Athletic to leave them third from bottom. Other Saturday matches saw Brixham AFC Reserves held 2-2 by Kingsteignton Athletic and Loddiswell Athletic come from behind to win 3-1 at Upton Athletic (match action pictured above). A goalkeeping blunder saw Jordan Kewell's shot trickle into the net to give Upton an early lead but Dave Poyser pulled a goal back just before half-time after battling through the Upton defence before unleashing a superb low shot. Salva Arlandis Correll put Loddiswell in front early in the second half with another fine finish after an attack up the right, and it was Dan Wellard who sealed the points with a third for the visitors.
In Division One, Buckland Thirds stay top after two away wins this week, completing the double over Chudleigh Athletic on Saturday with a 4-1 victory at Halford and following that up with a tighter than expected 4-3 triumph away at bottom club Kingskerswell and Chelston Reserves who had lost 8-0 at home to second-placed Ashburton on Saturday, Wise with a hat-trick. Newton Abbot '66, who enjoyed a 4-1 win at Beesands on Saturday, were looking to move above Ashes by beating them at Chuley Road on Wednesday evening, but the hosts strengthened their position instead with a 3-2 win. Four points away from home keep Ipplepen in the title mix, Pens winning 6-3 at Babbacombe on Saturday before drawing 1-1 with Tots Reserves in midweek. All other sides are out of promotion contention now unless more than two teams go up – unlikely as things stand. Beesands slumped to a third successive loss on Tuesday night, going down 2-1 at Paignton Villa, while Chudleigh's fading title hopes ended with Wednesday's 5-2 home loss to Bovey Tracey Reserves who bounced back from Saturday's 4-0 defeat at Villa. Stoke Gabriel Thirds hammered Buckland and Milber 9-2 away on Saturday before being held 2-2 at Babbacombe in midweek. But the Railwaymen's destiny will be shaped by what happens in the Premier; should Stoke's reserves go down, the thirds would have to drop down to Division Two.
In Division Two, Roselands are now 10 points ahead of Buckfastleigh Rangers after a 5-1 home win over Paignton Saints on Saturday. Rangers moved above Watcombe Reserves and into second spot on Wednesday night with a narrow 3-2 win at Kingsteignton Reserves. Watcombe, who had bounced back from successive defeats with a 5-2 victory at Teignmouth Reserves on Saturday, are two points behind with a game in hand. Ford stay level on points with Watcombe following their 7-1 home triumph over Kingsteignton Reserves. Waldon Athletic Reserves moved off the bottom on Wednesday with a vital 2-1 home win over Abbotskerswell who also lost 3-1 at Brixham Town on Saturday. Brixham moved briefly into the top six with that win until Hookhills, who had surprised Buckfastleigh by beating them 3-1 on Saturday, moved up to sixth with a midweek 5-1 triumph over Newton United. United, who moved level on points with Bishopsteignton by beating them 4-3 on the weekend, are not quite out of relegation danger yet.
In Division Three, Dartmouth Reserves have reduced Salcombe Town's lead to just three points with another game in hand bagged in midweek. Darts warmed up for tonight's Ronald Cup final against Liverton United Reserves with a 3-1 home win over rivals Dittisham on Tuesday night. That win follows Saturday's 4-1 victory over Upton Athletic, Roger Chalk, James Lee (with two penalties) and Ian Armitage netting. Salcombe Town are doing all they can to stay top, Ashley Yeoman with five, Luke Milton with a hat-trick and Jordan Bartlett and Jim Norton with singles in an 11-1 drubbing of Teign Village who scored through Tom Bartlett. AFC Staverton complete the top three after picking up seven points in five days. First came an 8-0 battering of Dittisham on Saturday followed by a 1-1 draw with East Allington Reserves on Tuesday and a 2-0 success at Teign Village on Thursday. Tiverton drop to fourth despite Saturday's 6-1 win against Chudleigh Reserves. Harbertonford Reserves move up to fifth after a resounding 5-0 win over relegation-threatened Buckfastleigh Rangers Reserves on Tuesday. Other Saturday matches saw Ipplepen Reserves move closer to mid-table security with a 4-1 victory over Ford, Torbay Police collect three points by winning 2-0 at Buckfastleigh and East Allington increase Waldon Thirds' relegation fears with two goals and a clean sheet at Windmill Hill.
In Division Four, a David Shilston strike for Meadowbrook condemned leaders Roselands Reserves to their first league defeat since November, Athletic going on to bag their fourth win on the trot with a midweek 2-0 home win over Paignton Villa Reserves. Watcombe Thirds narrow the gap to four points. Konor Styles scored twice and Luke Rhodes and Ricky Bergin also found the net in Saturday's 4-2 win over lsington Villa; then Watcombe were held to a 1-1 draw at Newton Abbot '66 Reserves on Wednesday night. Riviera United are looking strong in third, thumping Newton '66 7-1 away on Saturday and Ilsington 6-1 at home on Thursday. Broadmeadow bounced back from their surprise 1-0 loss at home to Babbacombe Reserves by beating Torquay Town 4-1 on Wednesday evening. Other Saturday results saw Barton go down 3-0 at Paignton Villa, Torquay Town beat Kingsbridge and Kellaton 3-2 and Ashburton Reserves draw 1-1 with visiting Newton Rovers. Ashes followed up that result with a 4-0 victory at Ilsington who are now five points adrift.
In Division Five, Torbay Police Reserves now top the table following a superb run of three wins this week. The Bees started by thrashing Newton Rovers Reserves 6-0 away on Saturday before scoring five without reply at Barton Reserves on Tuesday and finally edging lowly Malborough 1-0 on Thursday evening. Former leaders Riviera United Reserves slipped to two narrow home defeats, losing 3-2 to Newton United Reserves and then 2-1 to Stoke Fleming and Strete in midweek. Despite their 5-4 loss at home to Watts, Blake and Bearne AFC on Saturday, Broadhempston Reserves moved up to third with a 3-1 success at Moretonhampstead on Wednesday night. Moreton had thumped Barton Reserves 8-0 away four day's earlier but find themselves down to fifth behind Buckland and Milber Reserves who won 6-0 at Malborough on Saturday and defeated Paignton Saints Reserves 7-3 at home on Wednesday. Chudleigh Thirds stay bottom on goal difference; they lost 4-0 at Stoke Fleming on Saturday.